Politics
If You're a Centrist, Be Proud of It
Germany, like France, shows how centrism can be an effective governing platform.
by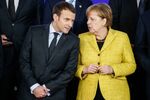 The German Social Democrats' vote to continue coalition talks with Chancellor Angela Merkel's center-right Christian Democratic Union isn't just another bridge crossed on the path toward the fourth Merkel cabinet since 2005. It's a decision that should resonate for all center-left parties: Are they actually better off as part of a strong moderate center rather than as stand-alone parties? That's an existential question many members and leaders of these parties are afraid to ask, and there's a chance that answers reached without their cooperation will wipe them off the political stage.
The vote on Sunday went 362-279 in favor of formal coalition talks, which will go on for weeks and produce a detailed, binding agreement of the kind Merkel has already carried out in two previous "grand coalitions" with the SPD. The Social Democrats have hesitated to repeat the experience because, in the public mind, Merkel came to be responsible for all the joint achievements -- not just for the economic prosperity that's the key goal of her center-right party, but also for social policies like the introduction of the minimum wage, which the SPD had championed. She has even stolen -- albeit at a high political cost -- the mantle of refugee protector-in-chief, which by rights belongs to the socialists, not to conservatives.
The public no longer comprehends what the SPD stands for, the party worries.  In 2009, after four years of the previous Merkel-led grand coalition, voters punished it with a 9 percentage point drop. After rebuilding its image somewhat in opposition between 2009 and 2013, the party agreed to another "GroKo" deal with Merkel -- only to lose 5 percentage points again in 2017.
As Kevin Kuehnert, the 28-year-old leader of the SPD's youth branch and a tireless agitator against yet another GroKo, put it at the Sunday party conference, "If we were a pub, one could say the Union has been running up a tab with us for years."
Merkel, however, could have made similar arguments in response, were she less interested in following the only available path to a stable government. The defection of right-wing voters from the CDU and its Bavarian sister party the CSU, which has aided the rise of the unashamedly hard-right Alternative for Germany, were in large part due to Merkel's concessions to center-left partners. "She's shifted too far left," one hears from the defectors. CDU-CSU, too, suffered a drop in popularity in the September vote -- although less steep than the SPD -- after both Merkel-led grand coalitions. 
Judging by the policies they pursue together, however, they're natural allies. Union stands for fiscal conservatism (as in deficit-free budgets) and supporting Germany's traditional, export-oriented industries. The SPD is for using the proceeds of Union frugality to fund moderate improvements to Germany's already strong social safety net, the integration of immigrants, and fixing the fragmented, obsolete education system. It, too, is a champion of traditional German companies, which allow workers' councils to play a major part in management. The two parties' policy objectives are, to an outside observer, complementary parts of a sensible program that could be put forward by the same centrist, strongly pro-European Union political force. There's not enough contradiction between them to create real competition on an ideological level. 
Perhaps the strongest reason Merkel's grouping and SPD aren't actually one party has to do with the parties' more radical wings. In Sunday's SPD vote, delegations from some former East German states and from Berlin were for an end to coalition talks and a new election. In the east, the SPD has a strong competitor in far-left Die Linke, and it has to fight for the leftist vote -- an effort an alliance with the center right can only undermine. For their part, the more conservative, anti-immigrant CDU-CSU members don't see the SPD as a desirable coalition partner -- they'd rather fight for their voters with the AfD.
One could argue, however, that politicians and activists on the centrist parties' fringes ought to decide what they want to do: beat the radicals on their flank or join them. If it's the former, it may make more sense to compete from a consciously, even defiantly moderate position. If it's the latter, the identity problem re-emerges. Today, the middle class is losing interest in traditional left-right distinctions because the traditionally defined blue-collar class is shrinking. It may be time for politicians who represent the middle class to admit the obvious: Centrism is an ideology in its own right. Even in the U.S., there's far more similarity between Hillary Clinton Democrats and Jeb Bush Republicans than between, say, the supporters of Clinton and Bernie Sanders, or those of Jeb Bush and Donald Trump. One can see how centrists from both parties are reluctantly making common cause against Trumpism. 
Instead of making situational alliances, centrist forces should perhaps even think about full mergers. Such combinations wouldn't just produce the most realistic policy programs in the market -- they'd have twice the chance of putting forward charismatic, electable leaders as they do today. The spectacle of centrists competing against each other is often boring and disorienting: It's like watching two boxers who prefer dancing to landing punches. A "dancer" pitted against a puncher, however, can be exciting to watch.
The creation of Emmanuel Macron's Republic on the Move party was essentially a merger of centrist forces, bringing together politicians from the Socialist Party and the center-right Republicans to form an alliance that is neither left nor right. Only in France, the traditional parties themselves weren't asked whether they wanted to form an alliance -- they were merely gutted to create it. It's not clear whether they can stage a comeback -- or whether Macron's new political force can survive as an entity if Macron becomes unpopular. Mainstream parties everywhere should keep the French example in mind. It could help them lower resistance to natural alliances such as the one in Merkel-era Germany.
To contact the editor responsible for this story:
Therese Raphael at traphael4@bloomberg.net
Before it's here, it's on the Bloomberg Terminal.
LEARN MORE