Companies
Amazon Is Sure Acting Like It's Going to Pick the D.C. Area
Odds are the tech giant is going to set up shop close to home -- its founder's, that is.
by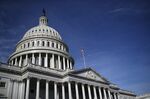 Amazon.com Inc. released the list of 20 finalists for its "second headquarters" Thursday. This morning, the low-information British Isles bettors at Paddy Power had Boston as the favorite to get the nod, at 3-to-1 odds, with Atlanta and Austin as its closest rivals. This is despite three of the 20 finalist spots -- Washington; Montgomery County, Maryland; and Northern Virginia -- being in or adjacent to the District of Columbia. Add up the Paddy Power odds for those three, and it comes to just under a 25 percent probability, versus 25 percent even for Boston. Really? I don't think so. Bovada, which caters to U.S. bettors, inexplicably has Nashville as the favorite, but Washington is at least a close second, and somewhere in the D.C. area appears to have the best odds overall.

Meanwhile, it seems pretty obvious to me that metropolitan Washington is now not just the likeliest winner but also the prohibitive favorite.
As I'm sure you're aware, Amazon founder and Chief Executive Officer Jeff Bezos already owns a major media company based in Washington. He paid $23 million in October 2016 for the biggest house in town. 1  Amazon Web Services, the company's fast-growing (and consistently profitable, unlike the rest of the business) cloud-computing division, went public last summer with plans to open its East Coast corporate campus in Northern Virginia, where it has major data center operations and is reportedly in the market for 2 million square feet more. Oh, and Northern Virginia is already home to the nation's, and probably the world's, biggest concentration of cloud-computing infrastructure.
More generally, the Washington metropolitan area is the nation's sixth most populous (fourth, if you go by the combined statistical area, which includes Baltimore) and ranks among the nation's top three "tech cities," according to real estate services firm Cushman and Wakefield Inc., with an ample supply of the skilled workers Amazon will need. Finally, we live in an age in which decisions made in Washington may end up being of existential importance for tech titans with a tendency toward monopoly. Sure seems like a good idea to have a big presence in the neighborhood.
I should note that these observations are not original to me. Nor are they grounded in inside knowledge of Amazon's deliberations or expertise in economic development. They're based initially just on seeing seven Acela corridor cities/regions and three Washington-area ones on Amazon's list of 20 and thinking, "Sure looks like they want to be on the East Coast, and probably somewhere near Our Nation's Capital."
They're also based, I'll admit, on reading Twitter, where several smart folks have been making similar speculations over the past 24 hours. Matthew Martin, a health economist in Cincinnati with a wide range of knowledge and interests, went on a tweetstorm Thursday that made most of the points above about Amazon's and Bezos's existing commitments in Washington and Northern Virginia. A sample:
And yes, the "headquarters" there means headquarters -- in that Martin predicts that Fairfax County in Northern Virginia will eventually supplant the current Amazon HQ in Seattle. Meanwhile, University of Toronto urban scholar Richard Florida looked through the list of 20 and saw a fiendishly clever plan to extract tons of economic incentives from local governments before making the inevitable choice:
Amazon choosing the Washington area would not be a happy story of the company giving a down-on-its-luck city a chance at renewed glory or an up-and-coming one another boost toward the top. It would be a case of the rich getting richer, basically. The Washington metropolitan area already has the highest median household income ($95,843 in 2016, according to the Census Bureau) of any metropolitan area outside of Greater Silicon Valley. 2  Loudoun County in Northern Virginia has the highest median household income ($134,464) of any county in the U.S., and neighboring Fairfax County comes in third ($115,717).
But the Washington area is still a relatively affordable place, with a median home price ($408,500 in the third quarter of 2017, according to the National Association of Realtors) way below Silicon Valley levels and also cheaper than in metropolitan Boston, New York and Seattle. It -- and especially its Northern Virginia parts -- can accommodate a giant newcomer in a way that smaller metro areas and more crowded ones cannot.
Yeah, the traffic's terrible in Northern Virginia, and it's going to get worse. To partially address that, I would guess that Amazon will want to locate its second headquarters along the Silver Line of the Washington Metro, which is in the process of being extended through the Northern Virginia sprawl out to Dulles International Airport. Or maybe the HQ proper will be closer in, perhaps in Washington itself, with a string of larger campuses strewn outward into Northern Virginia.
To be honest, I'm still rooting for Philadelphia. But I think Greater Washington may already have this thing wrapped up.
(
Corrects probability in first paragraph.
)
Bezos also owns two houses in Beverly Hills, a giant apartment in Manhattan and a 300,000-acre West Texas ranch, so the real estate signals he's sending are admittedly not unambiguously pro-Washington.
To contact the editor responsible for this story:
Brooke Sample at bsample1@bloomberg.net
Before it's here, it's on the Bloomberg Terminal.
LEARN MORE