view
Men Aren't Exactly Stampeding Back to Work
Four things could tell us why their labor-force participation remains near historic lows.
by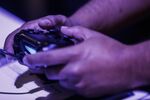 In December, the labor-force participation rate among prime-age men (in English: the percentage of men 1 ages 25 through 54 who either had jobs or were actively looking for one) hit 89 percent for the first time in almost seven years. The fitful revival that began in 2014 or 2015 seems to be continuing.
Still, prime-age-male labor-force participation remains a lot lower than it was when the Great Recession began a decade ago. In fact, it's lower than it's been at any time on record apart from 2009 through 2015.
This great departure of men from the labor force has become a much-discussed topic. There's one really simple demand-side explanation for it: Falling demand for certain kinds of labor -- especially blue-collar work such as manufacturing -- has led men to give up looking for jobs. Labor-force participation rates have fallen much faster for men with only a high school education than for those with college degrees, which seems to back this up. 
Most recent discussion of falling male labor-force participation, though, has focused on potential supply-side explanations. I'd put them into four main categories:
So what is happening now? There's certainly strong labor demand, with the U.S. economy creating more than 2 million jobs a year for seven years running and the unemployment rate at 4.1 percent. As Ben Casselman reported last week in the New York Times, employment has been rising fastest since 2012 among the less educated, and employers are shedding some of their bias against those with criminal records. Ernie Tedeschi, an economist at Evercore ISI who publishes data analysis on his own account on Twitter and occasionally in the New York Times, has dug numbers out from the monthly Current Population Survey indicating that men are leaving the ranks of the disabled, too:
What's most striking about his chart to me, though, is that while the rate of men moving off disability is way up from its early-in-the-recovery lows, it's still lower than it was in the early 2000s and late 1990s. There's no evidence in these numbers (yet) of a mass return of discouraged, formerly ailing men to workforce-ready health.

Also, while there's been a modest uptick (88 percent to 89 percent) in prime-age labor-force participation among men, for women the increase has been far more pronounced:
Why have women been so much more responsive to the change in labor demand than men? The most obvious reason is that most of the women counted as not being in the labor force are still working, usually taking care of kids or elderly relatives. That is, they are generally ready and able to do paid work -- and if the pay is good enough, they can hire somebody else to take care of the kids or Mom or Dad. Men not in the labor force constitute a smaller, much more troubled group. Stronger labor demand will lure some of them back, but it may have to stay strong for a long, long time to reverse much of the decades-long decline in male labor-force participation.
To contact the editor responsible for this story:
Brooke Sample at bsample1@bloomberg.net
Before it's here, it's on the Bloomberg Terminal.
LEARN MORE