Politics
Government by Skype? It's Worth a Shot
The Catalan government's next leader may be based in Brussels.
by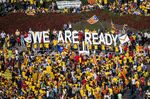 The Catalan parliament is considering what could be the most exciting experiment in modern politics: an attempt to form a government-in-exile that would actually govern.
As head of the government last year, Carles Puigdemont led the region to unilaterally declare independence from Spain. Spain responded by imposing direct rule, and issuing arrest warrants for him and other separatists. Puigdemont fled to Brussels, where he remains. 
He has a reasonably good chance at being renominated while abroad, though he needs to clear two major hurdles. Puigdemont's supporters don't have a stable parliamentary majority, and Catalan parliament decided Wednesday -- in its first meeting since December's elections -- to elevate a speaker whose main goal is ending direct rule. That would suggest a strategy of avoiding another conflict with the government in Madrid.  
On a certain level, that would be a shame for students of government like myself. It's time for someone to try to run a country, or at least a large, economically important region, remotely. 
Spanish Prime Minister Mariano Rajoy has vowed a swift court challenge, arguing that "government by Skype" was an absurd idea. But Puigdemont's spokesman in Barcelona, Joan Maria Pique, has drawn an analogy between his boss governing from Brussels and Donald Trump's use of Twitter to lay down U.S. policy. A better parallel would be with Trump's frequent visits to Mar-a-Lago, his Florida property -- 11 so far since his inauguration. Where's the real White House?
This may not be an inspiring example, but the point is clear: It may be a little too old school to expect a leader physically to be with his people. The whole idea of e-government is to minimize citizens' contact with officials. If we feel it's convenient to be governed -- or, rather, served by those we appoint to govern us -- remotely, why shouldn't they try to do their jobs from wherever they are? The leader of a government, who is on call day and night, arguably spends at least as much time working from other places as from the office.
In recent years, there has been a corporate backlash against working remotely. IBM, which spent years promoting telecommuting, last year moved thousands of its workers back into offices. The usual argument for that kind of move is that when employees spend more time together, there's more team cohesion, more knowledge sharing and more discipline. Research on the subject is inconclusive, noting both benefits and drawbacks of telecommuting.
One could argue, however, that in the case of governing the advantages outweigh the drawbacks. The processes are more formalized and less fluid than in business, the chains of command are established, and running them remotely could even eliminate friction and lower the pressure on the decision-maker that comes from constant demands on his or her time. The distance, say, between Brussels and Barcelona isn't long enough to eliminate physical meetings altogether, but it's sufficient to make sure only the most important ones are held.
Of course, it can be important for politicians to feel the support or the discontent of citizens, to talk to people on the street, to have the music of the national language constantly in their ears. Puigdemont likes attending soccer games in Girona, the city he hails from. Imagine, however, a politician with a disability that severely limits his or her ability to get around. German parliament speaker Wolfgang Schaeuble is wheelchair-bound, making it difficult for him to campaign as more mobile colleagues do, but that doesn't make him any less electable or a less effective leader. Puigdemont was not in Catalonia in December, yet his party beat the polls. It means many voters didn't mind. 
It's time to demystify government. It doesn't require physical presence any more than any other non-physical work. The idea of remote administration should definitely be tried. It could, for example, work for countries with large territories: A leader could run the government for weeks from different corners of the land. 
As for Catalonia, it probably needs something less innovative at this point -- and a leader capable of talking constructively to Madrid, and to the half of the region's population that opposes secession. Unfortunately, that can't really be done from Brussels.
To contact the editor responsible for this story:
Mike Nizza at mnizza3@bloomberg.net
Before it's here, it's on the Bloomberg Terminal.
LEARN MORE