U.S. Economy
It's Still Getting More Expensive to Be Poor
Inflation is higher for households with the lowest incomes.
by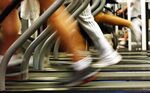 Heartwarming as it may be to see Walmart and other companies giving their lowest-paid workers a raise, the latest inflation data offer a caveat: It looks like the poor need bigger wage gains just to stay in place.
In recent years, overall inflation hasn't been excessive. If anything, it has been too low: As of December, so-called core consumer prices (excluding volatile food and energy) were up just 1.8 percent from a year earlier, below the Federal Reserve's target of 2 percent.
That said, inflation isn't the same for everybody. As I noted a while ago, the poor have experienced more of it in recent years, because the stuff they buy has become more expensive faster than the stuff wealthier people buy. The most notable driver was rent, which comprises a much larger share of total spending for low-income consumers.
With the numbers for 2017 in, I decided to see if anything had changed. It had: In relative terms, the poor were even worse off. In the year through December, the core inflation rate for those in bottom 10th of U.S. households by income was almost a half-percentage point higher than for the top 10th. 1 Here's a breakdown:
Rent still played the leading role. Here's a chart showing the top five contributors to the inflation rate for the poorest 10th:
There are various ways to address the disparity. Policy makers could, for example, reform zoning rules that inhibit the construction of affordable apartments, or redirect housing subsidies that give the biggest benefits to the wealthy. But until those and other changes occur, the U.S. will likely remain a costly place to be poor.
To calculate inflation rates for income groups, I combined the Labor Department's consumer-price data for specific categories of goods and services with estimates of how much households in the different groups spend on those goods and services (from the 2016 Consumer Expenditure Survey). The categories don't match perfectly across the two data sets, but they're close enough to get a sense.
To contact the editor responsible for this story:
James Greiff at jgreiff@bloomberg.net
Before it's here, it's on the Bloomberg Terminal.
LEARN MORE