Russia
The Do's and Don'ts of Fighting Russian Interference
A major report by Senator Ben Cardin suggests a broad response to Russian interference in the West. Only some of his recommendations make sense.
by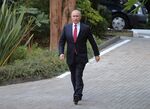 The staff of Ben Cardin, the ranking Democrat on the U.S. Senate's Foreign Relations Committee, has produced a mammoth, 200-page report on "Putin's asymmetric assault on democracy in Russia and Europe." It provides valuable insight into the current Washington thinking on Russian interference and how to counteract it. But not all the recommendations in the report make sense.
Blanket suspicion is the price Russian President Vladimir Putin's regime pays for adversarial rhetoric and for Putin's past as a KGB officer. The Soviet security service insinuated itself into every endeavor that had to do with the outside world, and there's evidence that the practice has survived and thrived under Putin. So it's understandable that the Cardin report supports the popular view that the Kremlin controls, and uses to political ends, every way in which Russians exert a global reach, be it cultural exchanges or mob ties. 
The report is clumsy in places. The authors cite exclusively English-language material in support of their research and make rookie mistakes like calling Norway a European Union member. A better understanding of cross-currents, especially when it comes to money flows, could have contributed to a truer picture of the conflict between the Kremlin's use of capital flight as a corrupting influence, Russia's creeping integration into Europe through the same capital flight, and the Russian business community's cynical mistrust of Putin and his anti-Western policies. It would also have forced the researchers to note that while it's true that "payments to state-owned Russian energy companies fund the Kremlin's military aggression abroad, as well as overt and covert activities that undermine democratic institutions and social cohesion in Europe and the United States," these same payments also fund health and education in oil- and gas-dependent Russia, as well as provide one of the most important revenue streams to Ukraine as a transit country.
But a more nuanced view might be unnecessary for the report's purposes. Visibly, as well as covertly, Russia is, without doubt, trying to project influence through a multitude of channels, and that influence is often essentially anti-Western. "For Putin and the Kremlin, the truth is not objective fact; the truth is whatever will advance the interests of the current regime," the report says, correctly. "Today, that means whatever will delegitimize Western democracies and distract negative attention away from the Russian government." 
Russian attempts at influence projection are repeatedly called "asymmetrical." A quote from former Estonian President Toomas Hendrik Ilves explains: "[W]hat they do to us we cannot do to them. ... Liberal democracies with a free press and free and fair elections are at an asymmetric disadvantage ... the tools of their democratic and free speech can be used against them." This Western liberal tradition is something to treasure, and the report's writers clearly understand it: They praise the Swedish response, which is to provide more media literacy education, starting from a young age, rather than fund counterpropaganda. But some of their own recommendations appear to be aimed at redressing the imbalance.
According to the report, the U.S. should increase spending on countering Russian influence operations in Europe and Eurasia "to at least $250 million over the next two fiscal years." The money should, essentially, be spent on countering Russian propaganda and support for democratic institutions, especially in countries where these institutions are relatively shaky, such as Bulgaria, Serbia and Hungary.
That's probably the least useful recommendation in the report. The justification for the extra outlay is that Russia is spending hundreds of millions of dollars a year to advance its agenda overseas, and that the exact amount of that spending is difficult to determine given its large quasi-private component. The European nations where Russian strategies have been thwarted haven't neutralized it by outspending Russia but by relying on their civilizing traditions -- like German parties, which agreed not to use social network bots and paid trolls against each other. And if Swedish media literacy education works, Swedes will discount U.S. government-funded counterpropaganda along with Russian-funded propaganda. It's also likely to feed anti-U.S. resentments, which are often at least as strong in European countries as anti-Russian ones.
Another recommendation that doesn't make much sense is a new adversary status for the U.S. government to establish for meddling nations like Russia -- "State Hybrid Threat Actor" -- to set up a system of escalating sanctions in response to cyberattacks and, presumably, other "asymmetric" actions. It's a rhetorical device that doesn't appear to serve any purpose when U.S.-Russian relations are already at their nadir.
The report also suggests added effort to reduce Europe's energy dependence on Russia -- something the U.S. is already doing as a matter of economic interest by trying to sell more liquefied natural gas. That part of the report is largely obsolete: In recent years, the EU has curbed Russia's ability to use energy exports as a political lever, forcing Russia to operate in a transparently regulated, competitive market. Russia's natural gas exporter, Gazprom, has accepted the rules of the game under threat of crippling fines. This is an area in which Europe has proved it doesn't need U.S. help.
This is not to suggest the Cardin report contains no useful recommendations. It's strong on exposing dirty and Kremlin-related Russian money inundating the West and making sure it doesn't surface in political campaigns. It promotes international efforts to build up Western nations' cyber-defenses -- and suggests, correctly, that the West should pay close attention to Ukraine as the testing ground for all kinds of Russian cyber-mischief.
The report also calls for more control of social media companies -- not just in terms of political advertising transparency, which has been at the center of the U.S. legislative debate, but in forcing them to "block malicious inauthentic and/or automated accounts," those primarily used to spread fake news. Tightening rules against bots and trolls wouldn't just make things more difficult for Russian troll farms but likely help turn the media market, in which social networks compete with professional news organizations, into a more level playing field.
As Mark Galeotti, a Russia expert extensively cited in the Cardin report, pointed out in a recent article, "We need to push for greater resilience in general. This is not merely a Russia problem, after all, it is a modernity problem." The better recommendations in the report are about building general resilience to cyberattacks, corruption, irregular campaign funding and democracy-endangering media illiteracy. Robust efforts in this direction will do more to hurt the Putin regime than counterpropaganda, retaliatory sanctions and hostile rhetoric: They'll make sure it keeps losing, as it lost everywhere in Western Europe in 2017.
To contact the editor responsible for this story:
Therese Raphael at traphael4@bloomberg.net
Before it's here, it's on the Bloomberg Terminal.
LEARN MORE