Real Estate
The First Atrium Wasn't in a Hyatt
Dallas had big buildings with open areas in 1957, 10 years before John Portman used the idea for hotels.
by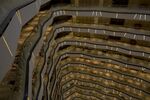 The architect John Portman died on Friday at 93, having designed and developed some of the most important urban landmarks in the U.S., including the Peachtree Center in Atlanta, the Embarcadero Center in San Francisco and the Renaissance Center in Detroit. No one will rank his creativity alongside, say, Philip Johnson's, but he built a substantial company, helped revive downtowns and spurred urban growth.
But that's not what we're here to discuss. If you read any of the major obituaries that ran over New Year's weekend, you'll see him credited with the idea of putting atriums in big buildings, especially hotels. And it is true enough that when you walk into a Hyatt or a Marriott and see a large open area, with a ring of rooms going up each of the four sides and glass elevators that look down on the central area, you are indeed looking at something that was designed either by Portman or a Portman copycat.
But it turns out that Portman wasn't the first to use an atrium in a big building. That distinction goes to the Dallas developer Trammell Crow. 1
Crow, who built the Trammell Crow Co. into one of the largest U.S. real estate companies, 2 began his career in the early 1950s building warehouses in an undeveloped section of Dallas. Before the decade was up, he had begun building a series of trade marts that eventually encompassed 5 million square feet and was known as the Dallas Market Center. One of the critical features of the buildings, the first of which opened in 1957, was that they each had a large atrium.
In 1984, when Crow was 70 and I was profiling him for Texas Monthly, I asked him where the idea came from.
"Margaret and I were on a tour in Milan, at the palazzo, which is a square doughnut building with a central outdoor plaza," he said, referring to his wife. He continued:
It just struck me: You could put up a lightweight truss, using high-strength steel, and move the whole thing indoors. It really wouldn't cost more than the cost of the roof, for everything else was there, including the air conditioning and heat, which would be furnished by the escapes from the showrooms. So when we were designing the Trade Mart, which was a big, million-square-foot building — almost inhuman, certainly unpleasant to be in — we proceeded to do that, and it was the first atrium in modern America.
As is clear from Crow's recollection, the purpose of the atrium was to offer people a respite from the monotony of the showrooms, a place where they could rest or eat or talk.
Did Portman know about Crow's atriums? Without a doubt. Once Crow branched out into hotels and office buildings, he and Portman were often partners, including on such major projects as the Embarcadero Center. According to Crow, Portman had seen the Trade Mart. Indeed, Crow was a partner on Peachtree Center, where Portman built a Hyatt Regency in 1967 that included his first atrium.
Of course a lot more architecture critics saw Portman's Hyatt than Crow's Trade Mart, and thus gave Portman credit for being the first to develop an atrium. And Portman did nothing to disabuse them of that notion.
Crow was an unusual businessman. He never felt the need to sweep every penny off the table. He was loyal to a fault. He believed a man's word was as inviolable as any written contract. When he was once asked at the Harvard Business School for the secret of his success, he replied, "Love."
But the credit Portman received for inventing the atrium rankled, even decades later. Crow knew that in failing to publicize his innovation, he had only himself to blame. And it was also true that Portman's willingness to put an atrium in a hotel was a far more daring act than putting it in a trade mart. And though atriums are hardly a valued feature in a hotel anymore — indeed, many hotel guests view them as déclassé 3 — they were still a big enough deal to be mentioned high up in Portman's obituary.
"Portman," Crow grumbled when I interviewed him those many years ago. "Great PR man."
To contact the editor responsible for this story:
Jonathan Landman at jlandman4@bloomberg.net
Before it's here, it's on the Bloomberg Terminal.
LEARN MORE