Taxes
Tricks That Made a Terrible Tax Bill Look Palatable
Democrats will play the same game when they get a chance. Don't be fooled then either.
by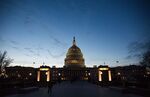 It's all over but the shouting: Republicans have finally passed their tax bill. And there will be shouting. Democrats are livid that Republicans are cutting taxes, particularly on corporations and people expecting large inheritances. Republicans are shouting back in self defense.
What is there left to say about this bill? Some of the details have changed, but essentially this is the same bill we've been arguing about since late November:
A fairly major tax simplification that has at least attempted to trim back some of the most egregious deductions that so complicate our tax code and distort our economy
A landmark shift in our corporate income tax, a shift that is largely well-designed and necessary, however much it may offend some people to do anything nice for corporations
A less well-designed and far less-necessary reduction of taxes on "pass-through entities" where profits are declared as income on the returns of the owners
Eliminating the individual mandate
An increase in the threshold at which the estate tax kicks in
A "sunset" (expiration date) on various provisions in order to keep the cost of the bill down
Substantial increases in the deficit, to the tune of $100 billion a year over the next decade.
I've already praised the tax simplification, bemoaned the wild fiscal irresponsibility, excoriated the folly of giving special tax breaks to closely held corporations, and asked whether it's really a good idea to load all the costs of this bill on a small group of people that the Trump administration doesn't like. Is there anything left to be said?
Why yes, I think there is. We haven't really talked about those sunsets, and why they're so novel, and so bad.
This is not, to be sure, the first time that sunsets have been used to make a bill more palatable to the budget wonks or the electorate. The Bush tax cuts, for example, expired after 10 years in order to ensure that they didn't increase the deficit outside the forecast window (something that was, for boring parliamentary reasons, necessary to passage). But that was rather simple and clear-cut. This bill, on the other hand, makes a whole slew of changes to the tax code, and then promises to change them back again in a few years.
Republicans have been basically openly stating that that doesn't matter, because the sunsets will never be allowed to take effect; as the hour nears, panicked legislators will simply extend the tax cuts. And there's certainly precedent for that view; in 2010, as the Bush tax cuts neared expiration, Democrats stepped in to extend them; in 2013, many of the cuts, except for those on the very highest incomes, were made permanent.
But this is a lousy way to make policy. For one thing, it means that these tax cuts will cost even more than the models predict. For another, it reduces the ability of taxpayers to plan.
This is called visibility, and it's hugely important. Say you're buying a house: If you can't tell how much of your mortgage interest will be deductible in seven years, you don't know how much you can safely afford to pay. Or say you run a company that's deciding whether to invest in a new business: You'd probably like to know what sort of expenses you can deduct. If you're saving for college, knowing your future tax rate will probably be pretty valuable for figuring out how much tuition you can expect to pay out of cash flow, and how much you need to save up in advance.
Increasing the uncertainty surrounding the tax code, in other words, hampers the ability of taxpayers to make wise decisions about saving, investment, education, job choices, and anything else that might affect their future incomes or spending.
Some level of economic uncertainty is of course a necessary concomitant of a healthy economy where Joseph Schumpeter's "creative destruction" is bringing forth new innovations and firms, at the expense of some old businesses. But government policy should strive to reduce gratuitous uncertainty, rather than add to it. When it comes to the tax code, legislators would be wise to adhere to the old British maxim about marriage: "You should begin as you mean to go on."
So setting up the tax bill this way is grossly irresponsible policymaking. If Congress cannot now find the money to pay for these tax cuts, then what reason do they have to think that it will get easier a few years from now? (In fact, it is apt to get harder, as the budget really starts to strain under the weight of our growing entitlement programs.) And why should ordinary taxpayers, who do not have the luxury of spending their days poring over white papers, be expected to bet their financial future on which way future Congresses will jump?
Worse still, the unprecedented scope of this budget gimmickry is likely to be mimicked on the other side of the aisle. The Obama administration was not exactly above this sort of thing; Obamacare was larded with timing tricks and unlikely "pay-fors" designed to reduce the apparent cost of the bill. But Republicans have gone them a few better, and if the history of the past 30 years is any guide, Democrats will use this precedent as license to be more irresponsible still when they get back into power.
Competitive fiscal irresponsibility is a losing game for everyone except the politicians who get a temporary electoral boost. It's easy to understand the political temptations. But it's hard to understand how responsible adults could give in to them.
To contact the editor responsible for this story:
Philip Gray at philipgray@bloomberg.net
Before it's here, it's on the Bloomberg Terminal.
LEARN MORE