Elections
Georgia's Election System Can't Be Trusted
Under attack from outside, and undermined from within.
by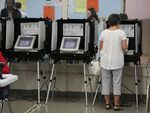 It occurred to me earlier this month, as security guards muscled me away from the doors behind which North Fulton County election officials were downloading vote totals, that the reason I don't trust Georgia's election system is that the people who run it act like they have something to hide.
Georgia's aging, vulnerable, unverifiable, mismanaged, electronic voting machines are famously insecure. They've been hacked dozens of times, most recently at last summer's DEFCON 25 Hacker convention in Las Vegas, where a group with little experience in voting technology gained complete control over how Georgia's voting machines register and store votes.
Even the tech center that manages state machines has been breached. It was discovered in March 2017 that sensitive voter data, passwords and software had been exposed to possibly millions of unauthorized users.
Despite agreement among U.S. intelligence services that Russian hacking represents a severe threat, Georgia Secretary of State Brian Kemp has shown little interest in election security, dismissing threats as "fake news."
Yet those aren't the main reasons I mistrust the system.
I've observed elections in countries notorious for democratic abuses. Yet even those elections were public events. When I asked Chris Harvey, Georgia's election chief, for credentials to observe Atlanta's December 5 mayoral runoff, he said credentials were unnecessary. "Elections are designed to be publicly viewable," he said.
To avoid any confusion, I came armed with a letter from the ACLU with the subject line "Counting ballots in secret in violation of O.C.G.A §21-2-406."
A  half dozen of us, including Tara, a videographer for a documentary on voting machines, came to observe. I introduced myself to the poll manager and said I would like to watch the shutdown, when technicians download vote totals to memory cards and begin the vote-counting process.
"Impossible," she said. "You're not even supposed to be here." I showed her Harvey's email, to no avail; she was certain elections are not public events. A copy of the Georgia election training manual materialized, and someone read aloud the portion about the right to observe. The poll manager told the burly Sheriff Department officer, who was the enforcer for the evening, that I was trouble.
He shoved us from the observer area to the lobby and closed the doors. "You can observe from here," he said. This was exactly the kind of secrecy that Georgia law prohibited. I wanted to know whose instructions they were following.
"Lieutenant Sweeny," he said.
"Let's get him on the speakerphone," I said.
What followed was a comic interlude with the affable Jerry Sweeny, who insisted that the election process was far better today than in the segregationist era, when ballot boxes bounced out of pickup trucks lurching down country roads. While Sweeny diverted us with election lore, votes continued to be tabulated in secret.
Aside from law enforcement officers, no one at the Fulton County Board of Elections appears to have a name or title. Every attempt I made to find out who was in charge was met with blank stares. One guy said, "I work for Richard Barron, and you all shouldn't be here."
His job was to carry bags of electronic media -- memory cards, smart cards, voter registration tablets -- to a warehouse in Mid-Town where the final vote tabulation would take place. He made himself scarce when he realized that Tara was filming him.
We decided to head to the warehouse. It was nearly 11:00 pm. Atlanta Mayoral candidates Mary Norwood and Keisha Lance Bottoms were separated by only a few hundred votes. Norwood lost a bitterly contested election by a similar margin to Mayor Kasim Reed in 2009. Even a hint that the voting machines were untrustworthy would trigger protests and cast doubt on the results.
At the warehouse, Richard Barron, Fulton County Director of Registration & Elections, was huddled in a corner with other officials. I had testified against Barron in a June lawsuit. From behind a distant rope line I tried to catch Barron's eye. "Rick!" I called. No reaction. "I want to ask you a question." He ducked into an unmarked office and slammed the door.
Eventually, another observer slipped the ACLU letter under Barron's door. Like someone shocked to consciousness with defibrillator paddles, Barron bolted from his office clutching the letter. I called after him again. He stopped in his tracks. "You're suing me," he said, though I'm not. "I'm not talking with you."
Sweeny was wrong. Things are not better than in the old days. American democracy is under assault from afar. Hackers with ties to Russia have the capacity to manipulate social media, break into voter databases or infect voting machines with malware. These threats will grow more severe.
Yet we must also worry about elections threatened from within. While Georgia's secretary of state has failed to reckon with the external threat, local officials have failed us, as well. Instead of acting like guarantors of public trust, acting with transparency, they behave like people with something to hide. That's no way to instill confidence in voters. Candidates deserve better, and so do those of us who elect them.
To contact the editor responsible for this story:
Francis Wilkinson at fwilkinson1@bloomberg.net
Before it's here, it's on the Bloomberg Terminal.
LEARN MORE