Sparklines
China Goes All In on the Transit Revolution
Just one city's fleet of electric buses is bigger than the five largest North American bus fleets combined.
by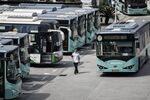 In 2009, the southern Chinese city of Shenzhen rolled out its first electric city bus. As of May of this year, it had 14,500 of them on the road -- and by the end of this month, the city plans to have an all-electric fleet. Shenzhen's efforts are another example of how China is leading the way in transforming urban transportation.
Shenzhen's effort is striking in its scope. The largest city bus fleet in North America is in New York City, whose 5,700 buses put it well ahead of Los Angeles, New Jersey, suburban Chicago and Toronto. These five fleets total 14,200 buses.
Shenzhen's fleet of electric buses is bigger than the five largest North American bus fleets combined. Not their electric bus fleets -- their entire bus fleets.
Shenzhen's buses represent only a small fraction of China's total electric bus sales, which reached 116,000 last year. My colleague Aleksandra O'Donovan has noted there are four key factors driving China's rapid deployment of electric buses:
Government support. Ample national and regional subsidies have helped lower the price of an electric bus from twice that of an internal combustion engine bus to roughly equal today.
Urban air pollution and a desire to reduce oil imports.
Many Chinese cities are building their public transit networks from scratch. New, electric-bus-specific infrastructure can be built, and buses can be rolled out without having to fit into an existing fleet's renewal cycle.
Industrial policy. The central government actively encourages investment in battery manufacturing. For Shenzhen, it doesn't hurt that the world's third-biggest lithium-ion battery manufacturer, BYD Co. Ltd., is located in the city; it also doesn't hurt that BYD builds buses, too.
Another reason electric buses have become far more affordable? A striking decline in battery costs. The price of a lithium-ion battery pack is down 80 percent since 2010, per the latest Bloomberg New Energy Finance survey.
Such significant cost improvements are the result of a virtuous circle: As costs fall, they encourage deployment; as deployment drives demand, manufacturing increases; as manufacturing increases, costs fall. On the deployment arc of that circle, my colleagues expect global electric vehicle sales to reach nearly 1.1 million this year, up from 695,000 last year. But given the size of an electric bus's battery pack as well as the country's electric bus sales, China's demand for electric bus batteries is almost equal to that of demand for all electric vehicle batteries.
"When I think of where EVs are going, it's clearly the case that China will lead the world in EV development," Ford Motor Co. Executive Chairman William C. Ford Jr. said this week in Shanghai. It looks like China already is. 
Weekend reading
Get Sparklines delivered to your inbox every week. Sign up here.
To contact the editor responsible for this story:
Brooke Sample at bsample1@bloomberg.net
Before it's here, it's on the Bloomberg Terminal.
LEARN MORE