Women
Europe Is Trying to Criminalize Catcalls. It Isn't Easy.
France plans to outlaw them, but that hasn't worked elsewhere in Europe.
by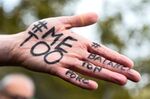 The U.S. sexual harassment scandals have largely reached continental Europe as a hollow echo. One European leader, however, appears to be serious about following up on the public outrage with measures intended to make his country safer for women: President Emmanuel Macron of France.
France has far more relaxed social norms than the U.S. when it comes to flirting and affairs. #BalanceTonPorc (Squeal on Your Pig), the French hashtag that emerged in response to #MeToo, helped boost the number of harassment complaints filed by women but didn't result in repercussions for any high-profile men. But the change Macron wants to enact first -- the criminalization of street harassment -- goes further than the rules that exist in the U.S. Various U.S. states punish offenses such as following a person or calling out to someone repeatedly after being ignored or told to stop. But the proposal Macron backs -- one originally advanced before the U.S. scandals hit by gender equality minister Marlene Schiappa -- aims to make sexist catcalls and wolf whistles a crime regardless of the circumstances.
Given that, according to a study by Cornell University and the anti-street harassment group Hollaback!, about two thirds of French women experience street harassment by the age of 14, that sounds eminently reasonable. Women shouldn't just brush off such unwanted advances; when I asked my 14-year-old daughter about her experience, she talked about it too matter-of-factly for my comfort. But trying to frame such a regulation shows how difficult it is to turn outrage into specific, enforceable rules.
Neighboring Belgium enacted a law against street harassment in 2014. It's tough. One can go to jail for up to a year or pay a fine of up to 1,000 euros ($1,189) for doing this:
[...]a gesture or statement that is clearly intended to express contempt for one or more people of a different gender on the basis of their gender or to make them appear inferior or reduce them to their sexual dimension in a way that constitutes a serious attack on their dignity.
That's a pretty sweeping definition of a law. And it's been a resounding failure. In 2015, only three related complaints were made to the police in Brussels. The street harassment statistics, meanwhile, haven't improved -- a survey earlier this year showed 98 percent of Belgian women have been subject to it. 
In France, Schiappa's effort is likely to be equally ineffective. For one thing, months of consultations with legal experts haven't produced a workable description of the offense, and it's unlikely to be as broad as in Belgium. Critics of criminalizing street harassment point out that the regulation could turn into a harassment tool itself -- against the racial minorities and underprivileged people who populate the street. 
For another thing, Schiappa's proposal makes it necessary for a police officer to witness the harassment before the guilty party is punished. France doesn't have a cop on every corner. In fact, it has about 17 percent fewer police per capita than Belgium and about a quarter fewer than Portugal, which criminalized street harassment last year -- and made it punishable by up to three years in prison to make a pass at a girl younger than the age of 14.
Schiappa told Politico in a recent interview that she hoped the very fact of criminalization would serve as a deterrent to potential harassers. That hasn't happened in Belgium, though. Laws against workplace sexual harassment haven't stopped it, either, and it's unlikely that the current scandals will: A certain kind of sexual aggressor appears to relish the risk of being confronted.
Macron's support for Schiappa's effort helps him score political points with women voters and capitalize on the trending hashtags. But there's only one way to see whether he means it when he talks about safer cities for women. Once the new law, no matter how imperfect, is enacted, France needs to make a special effort to enforce it. That may include embracing an existing solution -- an app called HandsAway, which lets women report street harassment. They're trying that in Brussels, where the local equality secretary, Bianca Debaets, has endorsed a Belgian version of HandsAway, called Touche Pas A Ma Pote (Don't Touch My Friend). Ideally, police who patrol streets should accept testimony and be obliged to react to signals sent through such apps -- though even then, many women probably won't risk making a report.
Meaningful change is necessary: Men often don't realize how much more discomfort women can face in environments that feel unthreatening to males. But such change is far more difficult than mere outrage or knee-jerk political moves. It's time to move on from these to the difficult work of creating rules and enforcement methods that actually make an impact.
To contact the editor responsible for this story:
Mike Nizza at mnizza3@bloomberg.net
Before it's here, it's on the Bloomberg Terminal.
LEARN MORE