Taxes
Taxes Are Low in the U.S., But Other Stuff Is Expensive
Higher education and health care are glaring examples.
by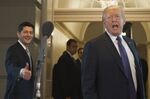 The Organization for Economic Cooperation and Development's annual compendium of revenue statistics is out, 1  and the U.S. again ranks quite low in overall tax revenue as a percentage of gross domestic product.
The OECD is the club of the world's developed nations, and the U.S. has the fifth-lowest tax burden among its 35 members. In other words, this is nowhere near "the highest-taxed nation in the world," as President Donald Trump has said again and again over the past year-plus. 2
But as lots of readers pointed out to me when I wrote about last year's tax burden rankings, a lower tax burden doesn't necessarily leave Americans with fuller bank accounts than their counterparts in other affluent countries. That's because services that elsewhere are mostly covered by tax bills are paid for differently in the U.S. The two that spring to mind as most significant are education and health care. 3
U.S. spending on primary and secondary schools actually isn't much of an OECD outlier (as a share of GDP), and neither is the percentage of that spending that comes from private sources. But for colleges and universities, the story is different. Spending on tertiary education accounted for 2.7 percent of GDP in the U.S. in 2014, much higher than in any other OECD country, and private sources accounted for a bigger share of that spending in the U.S. than in all but three other OECD countries. That's 1 to 2 percent more of GDP flowing into higher education from non-tax sources in the U.S. than in other affluent nations.
If you added that to the U.S. tax burden, it wouldn't dramatically shake up the rankings. But for undergraduates (or their parents), the burden is of a scale pretty much unheard of elsewhere in the world.
So that's clearly one reason some Americans might think their low tax burden isn't such a great deal. Another -- much bigger -- reason is the cost of health care. The U.S. spent 17.2 percent of GDP on health care in 2016, far and away the highest percentage in the OECD (Switzerland was in second place, at 12.4 percent; the OECD average was 9 percent). And while even government spending on health care in the U.S. is on the high end by OECD standards, it is private health-care spending 4 here that really has no peer in the developed world. 
So the U.S. puts in private hands activities that in most other affluent countries are managed by government. That's no surprise. What is curious is that those activities cost so much more in the U.S. than in other places.
It's possible this extra spending buys higher-quality services -- an argument that's easier to make for higher education than for health care, although there are question marks even there. But the net result is that while the tax burden in the U.S. is relatively low, U.S. taxpayers are burdened by other inevitable or near-inevitable expenditures that their counterparts in other wealthy countries don't have to worry about. Those taxpayers have a right to be cranky about this, and it doesn't really seem like the modest tax cuts for individuals that Congress is contemplating will do much to reduce their crankiness.
To contact the editor responsible for this story:
Brooke Sample at bsample1@bloomberg.net
Before it's here, it's on the Bloomberg Terminal.
LEARN MORE