Prophets
Forecasts for U.S. Growth Are Too Pessimistic
Those who wait for changes to tax policy to upgrade their estimates for next year are going to end up waiting too long.
Neil Dutta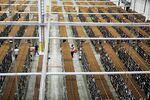 Since the recession ended in mid-2009, the U.S. economy has averaged annualized growth of just 2.2 percent, and the Bloomberg consensus forecast does not expect it to grow much faster in the year ahead. Estimates of real growth are just 2.4 percent in 2018. Some forecasters assume a stronger expansion as a result of the Trump administration tax legislation. Our sense is that the consensus appears awfully complacent, as growth is picking up regardless of changes to fiscal policy. Thus, there are upside risks.
For starters, the economy is already growing at 2.4 percent in 2017. After a weak first quarter, it seems poised to post three consecutive quarters of at least 3 percent growth. Current quarter tracking estimates from the New York Fed and Atlanta Fed are 3.8 percent and 3.4 percent, respectively. If these estimates hold, it would indicate strong momentum heading into 2018. In contrast to previous years, when growth estimates were generally cut as time went on, these expectations will likely move up as 2017 comes to a close.
What sectors can be expected to lift growth?
Inventories. These typically run broadly in line with the growth in the economy. Today, however, inventories are running below the pace of final sales, as shown in the graph below. The bars represent change in real private inventories, while the dashed line represents the change one would expect to see given the growth in final demand since the end of the recession, or 2.2 percent. There is some room for upside.

Business spending. We have experienced a notable rebound in business equipment spending in 2017, up about 6 percent compared with last year. There are good reasons to expect this to continue, especially in light of growth in the global economy and easing of lending conditions. However, spending on structures, a proxy for commercial real estate investment, has been restrained. Architectural billings have generally been expanding all year, a positive sign for the outlook.

Housing. Residential housing appears to be in a period of transition. Renter-occupied real estate is down as owner-occupied real estate is up. Multifamily construction has ebbed as single-family activity has improved. Existing home sales have flattened out as new home sales have improved. All told, the level of real residential investment has been flat since the second quarter of 2016. Looser lending conditions, low mortgage rates, and stronger consumer and homebuilder optimism tell us that housing is likely to be more of a tailwind to growth.

Government. Public-sector spending has been essentially flat for the last two years, contributing just 0.02 percentage points to GDP growth on average per quarter over this time. It is hard to see public-sector spending continue to be a nonfactor. Specifically, there is likely some scope for federal defense spending to rise in the years ahead.
By contrast, household consumption is likely to be more of a neutral factor to the outlook, perhaps growing in line with the broader economy. While incomes are supported by a tightening labor market, some of that growth will be offset by firmer inflation. Meanwhile, there is not much downside to the personal saving rate, already at a cycle low of 3.1 percent. 
The bottom line is that forecasters waiting for changes to tax policy to upgrade their estimates for growth next year are going to end up waiting too long. There are plenty of reasons to expect the pace of growth to accelerate even in the absence of fiscal policy changes.
To contact the editor responsible for this story:
Max Berley at mberley@bloomberg.net
Before it's here, it's on the Bloomberg Terminal.
LEARN MORE