European Economy
Jobless Benefits If You Quit? There's Some Logic
But it could be a fiasco for the French economy.
by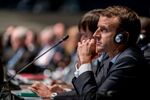 Emmanuel Macron swept into the French presidency last spring promising serious changes to the labor market. Neoliberal reformers, the natural constituency for this sort of thing, expressed cautious hope -- with the emphasis on cautious. France's sclerotic labor regulations have proven amazingly resilient to change, which is why the country's unemployment rate is pushing 10 percent, compared to 4.1 percent in the U.S., 4.3 percent in the U.K., and 3.7 percent in Germany.
The process of laying out those reforms is now underway, and with a surprising twist: The Wall Street Journal reports that Macron is proposing unemployment benefits for people who quit their jobs, not just those who are forced out.
The thinking is that reducing the risk of quitting your job increases the willingness to pursue the upsides -- including the economy-growing, creative-destruction-ing joys of entrepreneurship.
In a simple economic model, a worker -- call him "Homo Economicus" -- simply notices that there are more highly paid opportunities somewhere other than the place he is working, gives notice to his employer, and starts at his new job the next day. In the real world, things look considerably more complicated. For one thing, it is not always easy to know where the other job opportunities are; searching is costly and time-consuming, and workers may not do it assiduously enough to move up the productivity ladder quickly and keep the engine of growth churning. Real-world people, unlike the folks in economic models, also have preferences about the work they do: They may feel close with the other employees where they are, may like their current commute, or may be attracted to fringe benefits, from the health insurance package to the free snacks in the break room. Getting them to move is often difficult.
This is especially true when we are talking about moving them to the most dynamic sector of the economy: entrepreneurship and self-employment. Now, "dynamic" is a word that usually carries a good connotation in America. But the process of creative destruction destroys as well as creates, and there's quite of bit of self-destruction among startups. That can be nerve-wracking. Running a startup takes courage. If you have cash-flow problems, there will be no paycheck; if something goes wrong, there is no one around but you to fix it.
Allowing people to claim unemployment while they're in the process of shifting into self-employment gives would-be entrepreneurs a cushion during those crucial nail-biting first months. Which means that a government that offers those benefits may see more people take the plunge -- and hopefully, eventually, more thriving companies to grow the economy.
Sounds splendid, doesn't it? Win-win for everyone. This is the kind of policy that liberaltarians salivate after: social welfare for the left, business development for the right, moving beyond the simplistic old economic models that have held conservatism back in the 19th century. Alas, however, sometimes the folks in the bowler hats and the hoop skirts get the last laugh.
During the debate over Obamacare, there was one argument that came up again and again when conservatives questioned the economic effects of a massive new government program (and the massive taxes needed to pay for it). Obamacare, proponents said, would actually be good for the economy, because it would jump-start entrepreneurship, allowing folks who were trapped in their jobs by the need for health insurance to finally go out on their own and make the American Dream happen.
I was skeptical at the time, and have become only more so. Obamacare has now been in operation for four full years. During that time, has self-employment exploded? It has not. In fact, despite the emerging lure of the "gig economy," it is basically flat since 2012.
Conservatives often get accused of "Econ 101" thinking -- taking a simple model meant to illustrate some principle, and assuming that it will be a reliable guide to what will actually happen in the world. Sometimes, like when conservatives assume simplistic straight-line benefits from cutting taxes, those critiques are fair. But often the Jedi Masters of Econ 202 go as wrong, or wronger, than the folks they're criticizing.
For one thing, people often forget that the countervailing effects they propose are not necessarily larger, or even as large, as that simplistic "Econ 101" intuition they disparage. For example, one periodically hears arguments that the minimum wage can easily be raised because of "monopsony" (like a monopoly, except there's one buyer instead of one seller). In economics, a monopsony firm maximizes profits by producing less, and employing fewer workers, than a competitive firm would; if you force that firm to raise its wage, it will actually end up with higher output and a larger workforce.
This is an elegant rebuttal to those simplistic conservatives, except that very few firms in the low-wage labor market look like monopolists; there are many employers, and except in a recession, it is very easy for an employee to find a job: Just walk down the street to the next low-wage employer. Could there be some low-wage employers who are maximizing profits by employing fewer people and producing less than they would if they had to compete harder for labor? I'm sure. Does that characterize the low-wage labor market as a whole? Unlikely. It's far more likely that the simple intuition that "demand curves slope downward" (i.e. employers want to employ fewer workers when workers are more expensive) dominates. This effect may not always be large enough to pick out of the statistical noise, but early evidence from Seattle's major hike seems to suggest that if the increase is big enough, the disemployment effect shows up, just as you'd expect.
For another, they often forget that -- as in Seattle -- the margin matters. If we raise everyone's wage by a penny, very probably, nothing will happen to employment. If we make the minimum wage $150 an hour, we'd all probably expect some unemployment to result. A simplistic statement that "X will always happen" is probably wrong -- but so is the equally simplistic counterargument "X will never happen because Y."
There may be still other effects. To return to Obamacare: Conservatives pointed out that higher taxes (or mandated spending) would suppress consumer spending on things other than health care, cause deadweight loss, and depress corporate investment, lowering GDP. All these things are what the models predict. Liberals retorted that a healthier workforce more liberated to give entrepreneurship a shot would increase GDP, and these effects too were plausible. But it was possible that both these effects would be swamped by, say, the number of people who said: "Oh, splendid, if I quit my job, I'll qualify for heavily subsidized health insurance. Hello, early retirement!"
Which brings us back to Emmanuel Macron's counterintuitive proposal. Might this spur entrepreneurship? It might. It might also encourage people to quit productive jobs and dabble in "entrepreneurship" (or not) while collecting unemployment benefits. It might have some third effect I can't imagine at the moment. All I can say for sure is that if Macron goes through with this, we're going to find out.
To contact the editor responsible for this story:
Philip Gray at philipgray@bloomberg.net
Before it's here, it's on the Bloomberg Terminal.
LEARN MORE