Currency
The Blockchain Might Scare the Gig Economy to Death
This startup has a terrifying plan to eliminate Yelp, Facebook and tipping.
by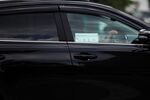 This post originally appeared in Money Stuff.
"Skedaddle, an 'Uber-for-buses' startup, is launching a blockchain project that aims to completely eliminate tipping," is the first sentence here, and then somehow "Users can rate any interaction with a service worker, which also functions as a tip, and follows a worker from job to job," is the second, and by that point your soul has probably already left your body. But it keeps going!
The "Kudos Project" will run on the Ethereum blockchain, allowing customers to rate any transaction they make, Skedaddle co-founder and CEO Adam Nestler told Business Insider.
Oh!
Those ratings, for anyone from your Uber driver to restaurant server to grocery supermarket cashier, are then instantly published to a decentralized database that allows anyone using the system to see the ratings that then follow an employee from one job to another throughout the full gig economy.
I see! 
"We think this will be the first cryptocurrency for real world use," Nestler said in an interview. "This is a massive opportunity to completely take down Yelp and Facebook reviews, while completely eliminating tipping."
Ah!
Look: no. Skedaddle is not going to eliminate Yelp or Facebook or tipping. It's not going to be "the first cryptocurrency for real world use." But at some level they're not wrong! One day 20 years from now we'll wake up and all of our interactions and performance will be tracked on the blockchain and will directly determine our income and socioeconomic status, and on the one hand we'll get pretty good customer service, but on the other hand we'll be terrified all the time. It is the logical endpoint of the "gig economy."
The thing is that this omniscient blockchain of terror will be run by Facebook, not Skedaddle. If you just come out and say that your mission is to build a dystopia of economic precarity and constant surveillance, then you do not have the soft skills to actually carry out that mission. (Never mind if you say that your mission is "to completely take down Yelp and Facebook reviews, while completely eliminating tipping.") If you say that your mission is "to make the world more open and connected," then you have the ruthlessness, and the facility with euphemism, to actually do it.
Elsewhere in dystopian blockchain fiction, here is a story about doomsday preppers who are hoarding bitcoins against the apocalypse. Doomsday prepping and bitcoin enthusiasm go well together psychologically: Both involve distrust of modern social systems, and both tap into deep libertarian and self-sufficiency themes. But they don't go at all well together logically: If modern society is wiped out in some massive catastrophe, it seems unlikely that the electric grid and global internet infrastructure will survive to run an energy-hungry blockchain for a currency with no physical form that even now basically can't be used to buy anything. But the bitcoin/apocalypse enthusiasts are undeterred:
"It may be difficult, if not impossible to access for a while, but once things start returning to some level of normality, then the blockchain will return as it was before the disaster," said Rob Harvey, a bitcoin investor who prepares for natural and nuclear catastrophes by learning and teaching survival skills, like making a fire. "The blockchain does not need a specific place or a specific person to survive—that's a strong survival tactic."
I feel like you will need somewhat more advanced technology than fire to run the post-apocalyptic blockchain, but sure.
If you'd like to get Money Stuff in handy email form, right in your inbox, please subscribe at this link. Thanks! 
To contact the editor responsible for this story:
James Greiff at jgreiff@bloomberg.net
Before it's here, it's on the Bloomberg Terminal.
LEARN MORE