Food
Keep Your Dark Chocolate, and Your Unearned Sense of Superiority
Some folks' taste buds are a bit too keen to enjoy 70 percent cacao. So what? Call off the chocolate wars!
by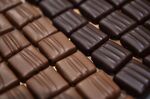 The Halloween loot, the Hanukkah gelt, the Christmas stockings brimming with candy: No wonder the fourth quarter of each year erupts in bitter fights between the partisans of dark and milk. Yes, sadly, we've reopened the chocolate wars.
This year's opening salvo was fired by Megan Garber, who wrote a jeremiad against dark chocolate at the Atlantic. Dark chocolate, she complains, is bitter. And also unpleasing of texture, for it is, (she quotes About.com) "more prone to a dry, chalky texture and a bitter aftertaste." These qualities are perversely celebrated by chocolate snobs who adopt a pitying tone when they tell you that they can't possibly enjoy anything with less than 70 percent cacao.
Aficionados of dark chocolate fired back in a ritualized display seen every year. People who like milk chocolate, they say, have had their palates dulled by oversweetened American foods. If they were not ruining their tongues and their waistlines, they would awaken to the joys of dark chocolate. If they did, they would know that dark chocolate can be made less crumbly by manipulating the amount of cocoa solids, and that Madagascar beans are markedly less bitter than most of the dark chocolate that ordinary mortals may have encountered. Also, why are you calling us snobs?
Ahem.
Take it from this foodie: There's no accounting for taste.
We get into real trouble when folks confuse their own personal taste, and their culturally conditioned habits, with metaphysical truth. Woe to anyone who occasionally or usually values anything different -- convenience, say, or the warm comfort of long familiarity.
The reverse snobs' response is no more healthy than their taste in things deep fried and slathered with Cheez Whiz. 1 I don't accuse Garber, who was clearly writing with tongue firmly in cheek. But I have had extraordinary conversations with folks who accuse me of eating certain foods only to show off. From the observation that many people take unwarranted pride in their eating habits, which is true, they extrapolate it to the conclusion that those people are only pretending to like those foods, which probably isn't true.
Nowhere is this divide more apparent than in the consumption of bitter things. It's not just dark chocolate. In cocktail culture, aficionados clamor for the amari and the exotic bitters, and rather look down on the rubes who just like a nice strawberry daiquiri. Beer hobbyists became obsessed with hoppier and hoppier beers. Coffee snobs take it black, black, black, and make denigrating remarks about sweet, milky Starbucks beverages.
Those on the other side of the bitter divide -- those of us who can't or don't appreciate that sensation -- make bitter jokes about the kind of people who choose their beverages to impress their friends.
At this point I should put my cards on the table: Geographically and demographically, I belong in bitter country. But I am an exile-in-residence, because bitter foods make me wince.
I mean that literally. Really bitter things -- a Negroni, say -- produce in me a physical aversion that is close to pain. Black coffee I find merely extraordinarily unpleasant, and hoppy beer is just barely endurable. If I really had to endure it. Say, if consuming a bottle of IPA were the only way to save a busload of orphans who had been kidnapped by a beer snob.
Given where I live here in Washington, DC, and my known interest in food, the presumption of the bitter evangelists is that I must simply need re-education. I have been subjected to many hours of lectures on how I just need to clear my palate from all the sweet garbage I'm used to, so that I can appreciate the subtle joys of bitterness. I have refrained from suggesting that they hold still while I teach them to enjoy the subtle joys of being repeatedly kicked in the shins.
For over years of learning about food -- and living with a bitter-loving craft cocktail enthusiast -- I've come to realize that my aversion to bitter foods is almost certainly genetic. The Romans who coined the adage "de gustibus non est disputandum" were righter than they knew; science now tells us that there is indeed no sense arguing over taste, because you're not going to change someone's genome. Many seemingly mystifying divides over foods like cilantro come from the fact that some people have taste receptors that others don't. If you have no receptors for the "soapy" compound in cilantro, this herb adds a marvelously tangy note to a dish. If you have those receptors, anything cooked with it tastes like Irish Spring en cocotte.
In my case, I probably have more bitter receptors than most people, so that a drink my husband finds intriguingly astringent would hit me like a punch to the tongue. I can no more get over my instinct to spit out bitter foods than he could get over his instinct to take his hand off a hot stove.
Some tastes, it's true, can be acquired. But many simply can't be, because nature has not given all of us the tools to enjoy them. My husband, bless him, understands this, and carefully protects me from bitter beverages. But too many other people seem to believe that whatever they are capable of appreciating, others should aspire to appreciate. And consequently they walk around sounding like fools.
So do those who accuse bitter aficionados of snobbishly faking their enjoyment.
There is nothing wrong with enjoying bitter things. Nor is there anything right about it. The fate of nations does not hinge on whether we drink daiquiris or Negronis. So, much as I enjoy the periodic spectacle of the battles, perhaps it's time that we called a cease-fire and dug deeper into that Halloween haul for some Twizzlers or Nerds or Starburst -- you know, something we can all agree on.
To contact the editor responsible for this story:
Philip Gray at philipgray@bloomberg.net
Before it's here, it's on the Bloomberg Terminal.
LEARN MORE