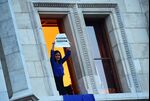 Hungarian Prime Minister Viktor Orban's government likes to portray its conflict with Central European University as a mere bureaucratic dispute. It is not. Orban's campaign against the university and its founder, George Soros, carries a darker cast.
Some background: In April, Hungary's parliament passed a law requiring that all foreign universities -- CEU is based in Budapest but incorporated in New York state -- also have campuses in their home countries. CEU has made just such an arrangement with Bard College in New York, but the Hungarian government refuses to recognize it. Last month, instead of certifying CEU's compliance, the Hungarian government extended the deadline to 2019. The university now faces a year of uncertainty over its future.
This episode is the latest in Orban's long campaign against opposition. Over the last seven years, he has taken on the constitution, press freedom, the rule of law, foreign scholars, the European Union and international conglomerates. As next spring's parliamentary elections draw closer and Orban seeks a nemesis to motivate his base, his attacks are intensifying.
One of Orban's main targets is Soros, the Hungarian émigré and philanthropist. It's not just CEU; Orban has also directed Hungary's intelligence services to investigate Soros's activities more broadly. Soros, an outspoken supporter of immigration and the humane treatment of refugees, clearly rattles Orban, who has demonized immigrants and minorities, built border fences and refused to abide by the European Union's internal agreement on refugee quotas.
As far as CEU is concerned, international criticism of Hungary's position has been near-universal. The U.S. has condemned the "discriminatory, onerous requirements on U.S.-accredited institutions in Hungary and threatens academic freedom and independence."
Hungary should sign the agreement that allows the CEU to continue to operate in Budapest (an agreement, by the way, that Hungary itself negotiated with New York). And Soros and Orban's other critics should continue to press for more openness and freedom. The larger question of how Hungary came to this pass -- how a once stalwart U.S. ally, EU and NATO member came to resemble the repressive Communist regime it once bravely overthrew -- is for future historians to ponder. Perhaps some of them might even be at CEU.
--Editors: Therese Raphael, Michael Newman.
To contact the senior editor responsible for Bloomberg View's editorials: David Shipley at davidshipley@bloomberg.net .
Before it's here, it's on the Bloomberg Terminal.
LEARN MORE