Energy
Europe Can Buy Russian Gas on Its Own Terms
German coalition politics and an EU proposal can make the Nord Stream 2 project work for (almost) everyone.
by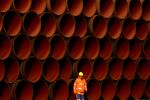 The hour of reckoning is at hand for the Nord Stream 2 project to double the exports of Russian natural gas to Europe across the bottom of the Baltic Sea. This key element of Vladimir Putin's energy strategy now faces twin pressures:  from the difficult German coalition talks and from the European Commission. The challenges are more likely to reshape the project than previous attempts by the U.S. and eastern European nations  to derail it.
Nord Stream 2, a 9.5 billion euro ($11 billion) project, is meant to follow the path of Nord Stream 1, a pipeline from Vyborg near St. Petersburg to Greifswald in Northeastern Germany that was finished in 2011. It would be able to carry 55 billion cubic meters of gas a year, enabling Gazprom, now the sole shareholder in the project, to supply more fuel to Europe without paying transit fees to Ukraine. Last year, a little under half of the 178.3 billion cubic meters of gas that Russia supplied to Europe went through Ukraine, yielding some $3.1 billion in transit payments. For Ukraine, this is critical revenue. State-owned oil and gas company Naftogaz said earlier this month that in the first nine months of the year, the taxes the company paid on the gas transit revenue exceeded Ukraine's public spending on health care.
Solidarity with Ukraine is an important issue for Europe, which has officially backed the country's EU aspirations. But there are other reasons for European nations to shun Nord Stream 2. Poland, which wants to diversify its energy supply as a matter of security, has fought hard to end the project. Slovakia, too, isn't happy: It stands to lose transit revenue and the profits from reselling Russian gas to Ukraine, which has refused to buy directly from Gazprom. The U.S., which hopes to increase liquefied natural gas supplies to Europe but is so far unable to compete with Russia on price, transparently named export promotion as a reason for its opposition to Nord Stream 2 in this year's Russia sanctions law. 
Russia argues that the Ukrainian pipeline infrastructure suffers from chronic underinvestment (true) and requires about as much in renovation costs as the construction of Nord Stream 2 (questionable: the World Bank has estimated the costs wouldn't be higher than $5.5 billion). Its offer to German consumers is simple: cheap gas, at a time when Germans are paying among the highest rates in Europe for energy after the country decidedto shutter its nuclear facilities. The previous German government  was adamant in defending Nord Stream 2 as a purely commercial project and remained deaf to the political arguments. That, however, may not be the case with Chancellor Angela Merkel's next coalition, currently being negotiated with the liberal Free Democratic Party and the Greens.
The Greens have been firmly opposed to Nord Stream 2, primarily for environmental reasons. They argue the pipeline is a danger to the Baltic Sea and to the pristine beaches in northeastern Germany, which are a popular holiday destination. They also insist on faster adoption of renewable energy rather than using Russian gas as a crutch as Germany phases out nuclear power. Solidarity with eastern neighbors -- not a high priority for Merkel's center-right party and the liberals -- is also important to the left-leaning Greens. So they have brought up Nord Stream 2 as a sticking point in the coalition talks. Merkel might be tempted to compromise on Nord Stream 2 to bring the partners closer on more contentious issues such as family reunification rights for refugees -- something on which the FDP and the Greens are at each other's throats.
The compromise could be based on a proposal the European Commission put forward on Wednesday. It would bring Nord Stream 2, until now considered an offshore project, under the EU's natural gas directive. That piece of legislation requires pipeline projects to allow equal access to gas producers, accept European tariff regulation and "unbundle" ownership from production. If the proposal, which requires the approval of the member states and the European Parliament, comes into effect, Gazprom will have to sell shares in the project, conceivably to Nord Stream 2's current financial investors:  Germany's Uniper and Wintershall, Austria's OMV, France's Engie and Anglo-Dutch Shell.
The Commission, especially concerned with European cohesion, is calling for negotiations with Russia to work out how it would follow the proposed rules. If Germany accepts the proposal, it will be a serious setback for Gazprom, which prefers to control transmission infrastructure and fears that the EU's tariffs might render the new pipeline unprofitable even compared with the Ukrainian route. When Europe insisted on similar rules for South Stream, a planned Black Sea pipeline to Southern Europe, Russia preferred to turn the pipeline toward Turkey.
This time around, however, no similar solution is available. If Germany agrees with the Commission and the proposed rule change becomes law, Russia will need to drop the project altogether or agree to the new terms. The latter would be the optimal outcome for everyone, except perhaps Ukraine and U.S. LNG producers.
Europe's own natural gas production is falling, and North African producers such as Algeria and Morocco cannot increase supplies by much. Meanwhile, despite enormous progress in renewables, the European Union is still using far too much solid fossil fuel such as coal. In 2015, solid fuels accounted for 24 percent of Europe's electricity output.
Using more natural gas is a quick way to phase out the dirtiest generation. Given how diversified Europe's energy mix is, that won't make the EU critically dependent on Russia, especially with U.S. LNG producers waiting in the wings and working to lower costs. Besides, the coal-burning facilities would be relatively easy to bring back online in case of supply disruptions. In any case, Russia, as dependent as ever on energy exports, wouldn't want to destroy its credibility by shutting off gas for Europe even if its current cold war with the West escalates. In order not to lose the all-important European market, Russia has a strategic interest in abiding by European rules. It has proved that by cooperating with the European Commission when it brought antitrust charges against Gazprom, and it will likely prove it again if Nord Stream 2 is brought under the gas directive.
As for Ukraine, its recent offer to cut tariffs from 2019 when its current contract with Gazprom runs out suggests a continued, although smaller, revenue stream from Russian gas transit is possible, especially if Europe increases consumption. Who knows; the competition may finally force reforms that drive investment in a country that has relied for too long on the easy money of transit fees.
To contact the editor responsible for this story:
Therese Raphael at traphael4@bloomberg.net
Before it's here, it's on the Bloomberg Terminal.
LEARN MORE