Prophets
Hiring Trends Show Employers Are Cautious
Companies are concerned about not being able to pass on the additional costs related to new hires.
by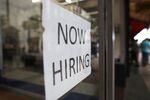 Many forecasters, including the Federal Reserve, see severe limits to U.S. economic growth in coming years and an inflation threat even sooner. A tight labor market, they claim, is the key reason. As evidence, they point to the low unemployment rate and a rising number of job openings.

I believe, in contrast, that the flat hiring shows employers remain cautious because they are worried about not being able to pass on the additional costs related to new hires by raising prices for their goods and services, only adding to the deflationary climate. And, the 4.1 percent unemployment rate doesn't account for all of the people who dropped out of the labor force when jobs were scarce during the Great Recession, but are now returning.

There is adequate labor and productive capacity in the U.S. to return to 3 percent to 3.5 percent annual growth in gross domestic product. More important, in this globalized world there are huge numbers of people ready, willing and able to work, and the means to employ them are ample. This is the reality that many U.S. forecasters vastly underweight.

Wage restraint isn't just an American phenomenon, but is found throughout the advanced world. Real wages in all Group of Seven countries have been basically flat for more than a decade, and unemployment rates in most developed countries, except the U.S. and the U.K., remain elevated. This implies ample labor supplies.

The European Central Bank sees plenty of labor slack in the euro zone. In contrast to the official 9.1 percent unemployment rate, it estimates that 15 percent of workers are unemployed or underemployed. This labor slack in and out of the euro zone is also shown by the high percentages of employees working part-time.

Japan has been a labor-short country due to its low fertility rate and long life expectancies that have hyped the pool of seniors in relation to working-age population. But Japan is now importing foreign workers to such an extent that real wages are falling despite the low 2.8 percent unemployment rate.
Another indication of labor market slack is the depressed labor participation rates in many countries, especially among women. This represents a huge potential source of labor.

Low and declining fertility rates will curtail labor force growth in future decades, but in the near future, rising life expectancies in both developed and developing countries will induce seniors to continue working.  In the U.S., where the post-war babies have been delinquent in saving for retirement, working well past the retirement age is often a necessity.

Meanwhile, the mushrooming gig economy and all the extra labor it provides is not confined to the U.S. It's global. A survey by McKinsey Global Institute of the independent workforce in the U.S. and Europe found that 20 percent to 30 percent of the working-age population in the U.S. and 15 major European Union countries are involved in independent earning activities.

McKinsey also forecasts that 100 million of the 232 million adults in the U.S. and major EU countries who are either inactive, unemployed or working less than full-time want to start working or increase their hours. After netting out independent workers who want traditional jobs, McKinsey estimates the independent workforce in the U.S. could grow from 76 million to 129 million and from 89 million to 138 million in major EU countries. That's equal to 45 percent of the working-age population.

The number of unemployed and underemployed people in developing countries is immense, and many can be put to work with relatively little training, as we've seen in China in recent decades. Millions moved from the hinterland to coastal cities to work in factories that fueled the country's economic growth in the 2000s. China has utilized most of its surplus labor but is emphasizing productivity so each worker can produce more.  Meanwhile, the earlier Chinese phenomenon of moving to the cities is being repeated in Vietnam, Pakistan and other South Asian countries. 

A big source of underutilized labor in developing Asian countries is in "vulnerable employment." These are workers who often lack formal work arrangements and tend to have depressed earnings and generate low productivity. Migrant workers usually fall into this class. The United Nations estimates that vulnerable employment as a percentage of the total ranges from 58 percent in Vietnam and Bangladesh to 81 percent in India.

As economies grow, whether in developed countries such as the U.S. or developing lands such as China, a rising share of spending is on services and a declining portion on goods. Service sectors have few capacity constraints. Financial services require limited capital equipment while software and internet services can be expanded tremendously with little additional physical equipment.

I also don't see productivity growth as a restraint on economic growth. In the U.S., it's been miserably low in this decade, 0.53 percent annually compared with 2 percent to 2.5 percent in earlier decades. But it's no doubt being underreported in an increasingly tech-driven economy. The productivity of cell phones, online shopping and intellectual property held overseas is underestimated, if measured at all. 

Furthermore, as today's new technologies such as biotech, robotics, artificial intelligence and self-driving vehicles become sizable chunks of the economy, they will move the productivity needle higher.  Indeed, productivity rose at a 3 percent annual rate in the just-reported third quarter.

We remain in a world of surpluses. Ample global labor and productivity capacity should allow rapid U.S. economic growth to resume once fiscal stimulus in the form of infrastructure spending and increased defense outlays kick in. This plentiful supply will also continue to promote an atmosphere that's more deflationary than inflationary.
To contact the editor responsible for this story:
Robert Burgess at bburgess@bloomberg.net
Before it's here, it's on the Bloomberg Terminal.
LEARN MORE