Companies
The Inside History of the 'New Coke' Debacle
The P.R. pioneer Harold Burson, 97, recalls his part in rolling out a reviled product, and the profane wisdom that helped the Coca-Cola Co. recover.
by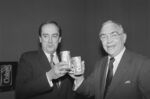 Last month, the giant public relations firm Burson Marsteller threw a party at the Gramercy Tavern for its founder, Harold Burson. The occasion was the publication of his first book, entitled "The Business of Persuasion," which is partly a memoir of his life in public relations and partly a "lessons I've learned" book.
Burson, who is 97, started the firm in 1946, after being discharged from the Army, where he had covered the Nuremberg trials for Armed Forced Network. As he notes in the book, hundreds of soldiers returning from the war dove into the burgeoning business of P.R. There were over 700 small firms in New York City alone. Burson Marsteller was one of the handful that not only survived but even thrived; today it is part of the WPP empire run by Martin Sorrell.
I've known Burson for about a decade. We have lunch about once a year at -- where else? -- Gramercy Tavern. And one thing I've come to realize listening to him over the years is that a good part of his success arose from the unusual rapport he developed with chief executives. Early in his career he befriended Willard Rockwell Jr., the CEO (and son of the founder) of Rockwell International, and generated an enormous amount of publicity when Rockwell bought the first corporate helicopter for executive travel. (The company's executives used it to visit various Rockwell plants. Pioneers of today's vilified but valuable corporate fleets.)
In the early 1960s, Burson helped General Motors and its chief executive, Frederic Donner, recover from the Corvair debacle. He was in the war room with Johnson & Johnson's James Burke, as the company relaunched Tylenol after the famous Tylenol murders. He was on a first-name basis with six Merrill Lynch chief executives, from Don Regan in the 1970s to Stan O'Neal in the 2000s.
Burson was especially close to Roberto Goizueta, Coca-Cola's legendary chief executive from 1980 to 1997. Which means he had a ringside seat for one of the great corporate debacles of all time: the introduction of "New Coke" in 1985. Not long ago, I asked Burson what he remembered about Goizueta and New Coke. Here, lightly edited, is what he said:
Ruder Finn had the Coca-Cola account, but they had to drop it when another client of theirs, Philip Morris, bought Seven-Up. Coca-Cola thought that was a conflict. So I started going down to Atlanta [where Coca-Cola is based], to talk to people about getting the account. They had set up a horserace for a new CEO and pretty soon it was down to two people: Don Keough and Roberto. 1
I met Goizueta during that period. Even though we were different sorts of people -- he was very precise in practically everything he did -- we just seemed to click. I saw him three times before he was named CEO. After I read that he had gotten the job, I sent him a hand-written note that said: "Congratulations. I would like to be of some help to you." His assistant called me and asked if I could go to dinner with Roberto in New York. At dinner, Goizueta said: "I don't know very much about the protocols of being CEO. You know a lot of CEOs. I want you to help me learn what CEOs are supposed to do."
"For the time being," he added, "I want you to report to me. You won't have a contract with the company; you'll be my consultant."
For the first six months, I went to Atlanta twice a month, and met him in New York once a month. And we would just talk. I would tell him different stories about CEOs and how they did things. My relationship with him was such that if I was in Atlanta on Friday afternoon, he would usually send me home in a corporate plane.
About a year later, one of our people joined Pepsi. He was in charge of international public relations. He came to us and offered a deal that was considerably more than what I was being paid by Roberto. My people wanted to take the deal. They were saying that this is Burson's ego-trip. The Pepsi guy wanted a decision in a week. The next day, I got on a plane to Atlanta to see Roberto. At lunch, he took the lead. He said, "I'm pleased with what you have done, and I've decided to pay you $150,000 a month to be the P.R. consultant for the whole company." Pepsi was going to give us $125,000.
At the end of 1984, between Christmas and New Year's, I got a phone call from Roberto. He said, "I would like you to come down here the first day after New Year's." I didn't ask why. He was the kind of executive whose desk was always perfectly clean. But this time he had three poster boards set out, which was very unlike him. "We have a serious problem," he said. He unveiled one of the boards. It showed a chart with a blue line for Pepsi and a red line for Coke. The blue line was going up and the red line was going down. If nothing changed, they were going to intersect in 1990.
The problem was that Pepsi had the "Pepsi Challenge." It was a blind taste test that Pepsi put on, and it was the preferred drink, by something like 53-47. That is because -- and it is true to this day -- if you give the American public a blind taste test in food or beverage, they will always choose the sweetest. Pepsi had more sugar than Coke. So Coca-Cola had formulated a new formula with more sugar. Goizueta says, "This is the most serious thing that Coke has ever done." He set up a committee that consisted of five Coke officers and me. He kept asking me: "What is my Achilles' heel?" I would tell him that if there was an Achilles' heel, it was likely to be that something was wrong with the research. They had done 100,000 taste tests. I said, "Just to be sure, you should hire a different research firm and let them do it again." It cost them over $1 million. They did it, and it came out the same: 53-47. So they launched.
What did we do when it we realized it was a disaster? There wasn't a helluva lot we could do. It was just so overwhelming. The people who drank Coke were protesting that they didn't like the new product and sales went way down. The Coke executives knew right away they had to reverse it. I spent a couple of days in Atlanta and worked with the internal Coke people about the relaunch of "classic Coke." The top guy in Atlanta, his name was Earl, had one of the deepest Southern accents I have ever heard. I said, "We have to be very apologetic. We have to beg for forgiveness. We have to be humble." I said, "Here's how I would summarize it: We gotta eat shit."
Then we had to meet with the rest of the executives. I had never heard Roberto use a profane word, not even "hell" or "damn," so I didn't use that language when I was around him. I started making this same speech to the executive committee. But I didn't add that last line.  In that accent of his, Earl said, "Harold, tell them what they really have to do."
I gave them the line. They all applauded, and that ended the meeting.
To contact the editor responsible for this story:
Philip Gray at philipgray@bloomberg.net
Before it's here, it's on the Bloomberg Terminal.
LEARN MORE