Editorial Board
The Bank of England's Dilemma
Britain's future prosperity turns on Brexit, and the BOE can't do much except hold a steady course.
by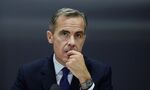 The Bank of England meets on Thursday to decide whether to raise interest rates. With inflation rising and growth slowing, the economy is sending mixed messages and policy makers are in a bind.
On balance, with the outlook so uncertain, the central bank should leave rates unchanged. At the moment, there's too big a chance that an increase would need to be quickly reversed.
Brexit is the main cause of the central bank's dilemma. First it caused the pound to depreciate, which pushed inflation well above the bank's 2 percent target. Then it hammered business confidence, causing growth to slow -- to an average of 0.4 percent a quarter since the Brexit vote, down from 0.6 percent a quarter in the three years before.
The bank responded by cutting the short-term interest rate to 0.25 percent and restarting its bond-buying program. Recently it has started to turn more hawkish: With its holdings of bonds now capped, two members of the Monetary Policy Committee have already voted to raise the interest rate. At least three others, including Governor Mark Carney, seem to be coming round to that view -- enough to swing the decision.
The recent rise in inflation, in itself, does not support the case for raising rates. Driven by the fall in the pound, it's temporary, and will fade of its own accord. The real question is whether the British economy is running out of slack. On the face of it, that's plausible: Unemployment has fallen to just above 4 percent, and productivity is stagnant, suggesting that wages will soon pick up, stoking a more persistent rise in inflation.
So far, though, pay is not accelerating. More important, the economic outlook is getting worse: Investment and business confidence may come under increasing pressure as the Brexit nightmare unfolds. Changes in interest rates take time to affect the economy, so by the time any increase starts making a difference, there might be more slack, not less. That would force the bank to reverse itself -- making monetary policy a source of added instability.  
Granted, consumer debt is rising fast and could become a threat to financial stability in its own right. However, this problem can be addressed without changing interest rates. The bank has already used so-called macro-prudential policies for this purpose, and should do more.
Britain's future prosperity, or lack of prosperity, turns on Brexit, and there's nothing the Bank of England can do about that. All it can do is try to hold a steady course and avoid adding to the uncertainty that's holding the economy back. For now, that means leaving interest rates unchanged.
--Editors: Ferdinando Giugliano, Clive Crook.
To contact the senior editor responsible for Bloomberg View's editorials: David Shipley at davidshipley@bloomberg.net .
Before it's here, it's on the Bloomberg Terminal.
LEARN MORE