European Economy
One Misstep Now Would Cost the Bank of England Its Credibility
It signaled quite clearly that it would raise interest rates. To do anything else would cause years of trouble.
by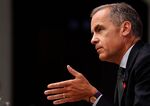 There's more than just interest rates on the line at the Bank of England this week.
After a number of false alarms on borrowing costs, most recently in the middle of this year, economists appear confident the BOE will increase its benchmark rate by a quarter point to 0.5 percent. (That's still very low.)
Failure to do so would be perilous. Policy makers flagged a coming increase when they last met in September, and it's tough to argue that conditions have changed enough to justify backtracking. Inflation is well above the bank's target of 2 percent, and unemployment is close to the lowest in four decades. Growth isn't fantastic, but nor has it collapsed as some opponents of Brexit warned. 
The need for follow-through isn't entirely about what the data says. It's about a plank of central bank practice known as forward guidance.
The idea is that by being more open and predictable about the direction of interest rates, officials can guide investors and companies about policy and thereby reduce volatility and the chances of an upset when rates go up or down. This, in turn, is supposed to minimize disruption to the economy. Many central banks do this, to varying degrees, including the Federal Reserve and the European Central Bank.
So the risk is not just about one economic shock if the Monetary Policy Committee deviates on Thursday from its signaled path. The risk is a return to the bad old days of continuous uncertainty.
The BOE under Governor Mark Carney has developed a reputation for stop-start, go-no. Some -- not all -- of this can be sheeted home to post-Brexit uncertainty.
Its signal in this case was not open to misinterpretation: " A majority of MPC members judge that ... some withdrawal of monetary stimulus is likely to be appropriate over the coming months." It committed, in effect, at least five of the nine people who vote on interest rates to a certain outcome. It's not just Carney making a speech or giving an interview.
Granted, the September statement said "coming months"; it didn't say the next meeting. But with fewer Monetary Policy Committee gatherings these days (they used to be each month), most observers reasonably concluded that odds favored the November meeting.
The BOE has said or done nothing to dissuade investors from this view. If the bank chokes this week, it will lose its credibility -- no points for quibbles like "Hey, we said 'months.'"
The sound execution of monetary policy depends on an institution's credibility. When a central bank uses that kind of language, it really better follow through reasonably quickly. If the BOE passes this week, it will be about five seconds before one of Carney's opponents in the House of Commons reaches for a mike and utters "unreliable boyfriend."
Carney's tarnished reputation would be the smallest casualty, though. What's really at stake is whether forward guidance still has standing -- whether markets can believe what central banks tell them.
To contact the editor responsible for this story:
Philip Gray at philipgray@bloomberg.net
Before it's here, it's on the Bloomberg Terminal.
LEARN MORE