Taxes
For Republicans, Estate-Tax Repeal Is Inviolable
In the deal-making on the GOP's plan, the untouchable provision is one whose sole benefits go to the very rich.
by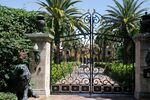 Republicans are frantically trying to make a tax bill fiscally and politically palatable, juggling proposed individual and corporate rates, important deductions like state and local tax write-offs, and tax consequences for 401(k) plans.
But one provision appears inviolate: abolishing the estate tax for wealthy estates.
Support for this repeal has held fast despite political concerns that Republicans need a measure that looks more like relief for the middle class than a sop to the rich. But no provision is more lopsided for the wealthy, while doing nothing for the middle class, than eliminating the estate tax. Though not a major revenue source, this would cost the Treasury almost $700 billion over 20 years. 
There aren't any congressional districts where its repeal helps a significant number of voters, but it's important to another crucial political constituency: wealthy campaign contributors.
Michael Graetz, a Columbia University law professor who was a top Treasury tax official in the George H.W. Bush administration, co-wrote the definitive book on the special-interest campaign to repeal the estate tax. And 15 years ago, he says, campaign contributions "weren't that much of a factor." Today,  he notes, there's a lot more money in politics and a lot more very well-off donors who might benefit from repeal.
Privately, some congressional Republicans acknowledge that the issue is a big deal for a number of their most important contributors.
Len Burman, a tax expert at the Urban Institute, draws the contrast between the Republicans' concerns about the political fallout of tax cuts tailored too much to the wealthy, and then "they don't want to touch repeal of the estate tax, which goes almost only to rich people."
The Republican rush to put together a tax measure -- it will likely be heavy on cuts and light on reform -- is much more political than economic. After failing to repeal and replace Obamacare, and achieving little else in this Congress, the Republican base, which includes donors, is angry. Passing a tax bill that pleases these elements is necessary if the party is to keep a majority in the House and make gains in the Senate in the next year's elections, Republican leaders believe.
They plan to do this on a party-line basis, but they face hurdles: The corporate and individual tax cuts outlined by the White House and congressional Republicans would add far more to the deficit than budget rules permit. Moreover, it appears the revised package -- specifics will be presented on Wednesday -- will still tilt more to the affluent than the middle class.
To mitigate these challenges, there are last-minute maneuvers on how much to cut the corporate rate, to reshape individual rates to help the upper income less, and to limit preferences, such as the deduction for state and local taxes, as a way to pick up revenues -- but not so much so as to lose votes from Republicans in high-tax states.
Yet repealing the estate tax, so precious to most Republican politicians, adds to these problems. More than almost any other provision, it reinforces the case that the GOP tax package chiefly benefits the wealthiest Americans, while increasing the deficit. The estate tax is only imposed on estates larger that $10.9 million for couples -- $5.95 million for an individual -- and affects only half of 1 percent of all estates. 
Supporters of abolishing it charge that it amounts to double taxation, because most of these assets already have been taxed. But a Federal Reserve Board study found that about 55 percent of the assets on large estates are on unrealized capital gains that have never been taxed and aren't taxed at death. It's a smaller but still sizable amount for smaller estates still subject to the tax. 
Graetz points out the contradiction between the Republicans' complaint about double taxation here, when the claim is dubious, while advocating for "letting people pay federal tax on the state taxes they've paid."
President Donald Trump and House Speaker Paul Ryan claim that with repeal, small businesses and family farms will escape the burden of the estate tax. The Tax Policy Center has estimated that a grand total of roughly 50 genuine small businesses and family farms would be hit with an estate tax in 2017.
A handful of Republicans may balk at repeal: "There is no need to eliminate the estate tax," said Senator Susan Collins, a Maine Republican, noting that the law "already takes care of the vast majority" of small businesses and family farms.
The most creative rationale for a huge bonanza to rich heirs came from Commerce Secretary Wilbur Ross. Ross, a billionaire, complained the estate tax is a "fine" for the deceased trying to rest in peace.
To contact the editor responsible for this story:
Katy Roberts at kroberts29@bloomberg.net
Before it's here, it's on the Bloomberg Terminal.
LEARN MORE