Editorial Board
Don't Rush to Judge Trump
The charges against Paul Manafort are a scandal -- but they aren't evidence of the president's guilt.
by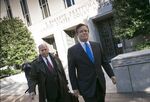 It is surely a scandal, and not just in the political sense, when the former chairman of a presidential campaign is indicted for work related to a corrupt foreign government. At the same time, it's important to remember that Paul Manafort's indictment is not evidence that President Donald Trump or his campaign colluded with Russia to influence the 2016 election.
The counts against Manafort and his associate, Rick Gates -- including money laundering, tax evasion, and failure to register as foreign agents -- are serious. Combined with a guilty plea by George Papadopoulos, a Trump campaign adviser who lied about his contacts with the Russians, they are the first step in what is likely to be a lengthy criminal investigation into Russia's interference in the 2016 election. 
The months ahead may well bring evidence of communications, or coordinated activity, between the Russians and the Trump campaign that were illegal (or, at best, ill-advised). But the indictments and guilty plea offer no such evidence -- and Trump's critics should grant him the point, no matter how ineloquently he himself makes it.
When Deputy Attorney General Rod Rosenstein appointed Robert Mueller III as special counsel five months ago, it was "to ensure a full and thorough investigation of the Russian government's efforts to interfere in the 2016 presidential election." As Manafort, Gates, and Papadopoulos have learned, that focus does not mean that other possible wrongdoing -- political or otherwise -- will go unexamined.
In other words: Answering the question of how or whether Russia influenced the campaign will require examining the practices and activities of those involved in the campaign. Manafort's penchant for profiting off of corrupt regimes was widely reported last year, and his work for pro-Russian politicians in Ukraine led to his resignation as Trump's campaign chairman.
Trump himself has repeatedly denied having any business ties to Russia. Mueller is almost certainly investigating that issue, too, and Trump's extreme defensiveness on the matter -- from firing FBI director James Comey, to entertaining the idea that he could pardon himself and others caught up in the probe, to shouting "NO COLLUSION!" on Twitter -- makes it hard not to wonder whether he has something to hide. Nonetheless, Trump's critics owe him the presumption of innocence -- and his supporters should not fall for his attempts to discredit and derail the investigation.
Manafort, Gates, and Papadopoulos are collateral damage in the Justice Department's quest for the truth about Russian interference. Until Mueller's investigation reveals more, Americans should suspend their judgment about Trump's involvement  -- and insist that the probe continue without interference from the White House.
--Editors: Francis Barry, Michael Newman.
To contact the senior editor responsible for Bloomberg View's editorials: David Shipley at davidshipley@bloomberg.net .
Before it's here, it's on the Bloomberg Terminal.
LEARN MORE