Prophets
For the Bull Market to Keep Going, Dividends Must Accelerate
Wall Street earnings forecasts suggest a rosy outlook, but trends in corporate payouts tell a very different story.
by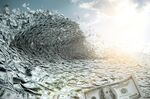 Public-company managers hate cutting shareholder dividends because such moves signal multiple failures. It means they overestimated the company's long-term earnings power, inadequately planned for cyclical dips, or mismanaged the company's debt load. Board members often -- and correctly -- see a dividend reduction as the right time to cut management teams.
That harsh reality makes dividend policy a very useful tool for investors when it comes to understanding managements' true perspective on future earnings and cash flow. Far more than upbeat near-term projections, payouts reflect corporate managers' honest views of sustainable, cash flow-based earnings potential. Share buybacks, although they are tax-efficient, simply don't carry the same informational content. Managements can cancel or curtail those, but as the old Wall Street saying goes, "You can't restate a dividend." 
So, trends in dividend growth are a key indicator of corporate earnings and, therefore, the fundamental health of equity markets. And with the S&P 500 Index trading at 18 times earnings on hopes for further profit gains in 2018 and beyond, the humble quarterly dividend check takes on special significance.
The recent course in payout ratios (dividends divided by operating earnings) and growth rates present a mixed picture for equity market valuations. On the plus side, payout ratios were 40.5 percent in the third quarter. Long-run averages back to 1998 show a 38.8 percent ratio, so we're close enough to a cross-cycle mean to say dividend payments are sustainable. The numbers since 2010 are actually lower, at an average 34.6 percent payout ratio. Clearly, corporate managers tread lightly on the dividend accelerator after the financial crisis, waiting to make sure the economic recovery was sustainable. 
Also in the positive camp: In terms of overall dividend security, current payout ratios look solid. Even if corporate earnings recorded a 15 percent dip in a modest recession, payout ratios would not top 50 percent. In other words, the companies of the S&P 500 would still cover their dividends twice over. You might see some companies cut payouts, of course, but the more recession-proof businesses would be able to increase dividends.
The news is not so sanguine in terms of dividend-payment growth. From 2011 to 2014, payouts grew by 13 percent to 23 percent annually. In the most recent quarter, they advanced 8.4 percent. This is not the result of slower earnings growth for S&P 500 companies. Bottom-line results have increased an average of 18.4 percent over the past four quarters on an operating basis, according to S&P. Payouts, though, have only increased by an average 6.2 percent over the same period -- less than half the rate of earnings growth. 
This is a worrisome trend. Analysts' estimates for the S&P 500 forecast double-digit earnings growth next year. Aggregate corporate-dividend policy, which signals managements' best look at their expectations, points more to mid-single-digit growth. Current market valuations want to believe the analysts, but managements, through their public dividend policy decisions, are telling a very different story.
There are some potentially good reasons for U.S. companies to hold back. Perhaps they see investment opportunities in Europe now that its economy is on the mend. The same be hold true of domestic investments, in the belief that tax reform or deregulation will spur economic growth. Either could be a better use of corporate cash flow, and dividends should eventually rise to reflect higher earnings from those initiatives. 
The trouble with that explanation sits with the bond market, specifically in the threat of higher yields. The S&P 500 currently yields 1.9 percent, where the U.S. Treasury 10-year note yields 2.46 percent. Central bank policies make analysis of a historical spread analysis problematic at the moment, but if yields on Treasuries -- and fixed-income generally -- continue to increase this could well put a dent in stock valuations. 
The answer for equity bulls is simple: Companies have to accelerate their dividend payout growth, and soon. Fortunately, there are several reasons to believe this will be the case. For example, fourth-quarter earnings are forecast to rise 11.4 percent for the S&P 500. Moreover, estimates for the fourth quarter are increasing; they were at 11.2 percent a month ago. Also, analysts expect profits to rise 11.6 percent in 2018. 
As far as how companies actually think through dividend policy, recent history shows they may be inclined to boost the amount of earnings they are willing to pay shareholders. Payout ratios in this cycle peaked at 45.3 percent in the second quarter of 2016 before declining to the current 40.5 percent. There is room to increase them again and still be within recent norms. 
Dividends are among the most important connection points between corporate managements and shareholders when it comes to future earnings power. For the bull market to continue, managements need to take heed of what investors expect: faster dividend growth.
To contact the editor responsible for this story:
Robert Burgess at bburgess@bloomberg.net
Before it's here, it's on the Bloomberg Terminal.
LEARN MORE