Editorial Board
Euro-Zone Tapering Is a Delicate Task
The European Central Bank has to scale back quantitative easing without spooking investors.
by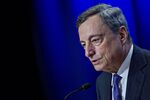 On Thursday, the European Central Bank is expected to announce changes to its program of quantitative easing. The threat of outright deflation in the euro zone has eased, so changes are indeed required. The ECB should start getting monetary policy back to normal by scaling back its asset purchases.
This could be a delicate task. Inflation is still well below target, so too abrupt a transition would be risky. Removing monetary stimulus faster than investors expect might cause the euro to appreciate too much -- in effect, tightening policy more than intended. Clear and consistent messaging from the central bank and its president, Mario Draghi, will be essential.
The euro-zone economy has come a long way since the ECB first announced QE at the start of 2015. Unemployment has fallen from 11.3 percent to 9.1 percent. Inflation is now at 1.5 percent, up from minus 0.6 percent three years ago. The euro area has benefited from a strengthening world economy, and Europe's governments have eased their fiscal restraint and made some structural reforms. Still, the ECB deserves much of the credit: If it hadn't acted as it did, the recovery would have been far weaker.
A degree of monetary stimulus is still needed. Core as opposed to headline inflation was 1.1 per cent in the year to September. Wages have begun to pick up, but are unlikely to accelerate much further so long as unemployment stays high. Nonetheless, the central bank has room to reduce the pace of its asset purchases. It's currently buying 60 billion euros in corporate and government debt each month. As a first step, it could safely cut that in half.  
The ECB's governing council has other ways to signal its commitment to bringing inflation back to target. It can say that subsequent changes in QE will depend on the strength of the recovery, and it can continue to provide forward guidance on interest rates, promising to keep them low until the expansion looks self-sustaining.
Tapering without tantrums ought to be possible. In any event, a clear move toward policy normalization is expected this week -- and it needs to happen.
--Editors: Ferdinando Giugliano, Clive Crook
To contact the senior editor responsible for Bloomberg View's editorials: David Shipley at davidshipley@bloomberg.net .
Before it's here, it's on the Bloomberg Terminal.
LEARN MORE