China
Crisis, What Crisis? Banks Pile Back Into China
Growth has picked up, but there's still plenty for lenders to worry about.
by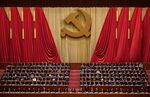 China has been working hard to convince the world that it's not a financial crisis waiting to happen. Judging from the latest data on cross-border lending, banks are buying it.
Foreign banks' total exposure to China reached $750 billion in June 2017, up from $659 billion a year earlier, according to the Bank for International Settlements. That's a big contrast to a couple of years ago, when lenders were pulling tens of billions out amid concerns that a combination of high indebtedness, excessive investment and slowing growth would precipitate a wave of defaults. Here's how that looks:
What changed? For one, China's economy (according to the suspiciously smooth official data, at least) has proven more resilient than expected: The pace of growth has accelerated from a mid-2016 low of 6.7 percent, and forecasters have raised their projections for 2018. Perhaps more important, Chinese officials have advertised their commitment to controlling debt and containing an overheated property market.
That said, it's odd that banks would think China is getting debt under control even as they provide more of it. Although the accumulation has slowed in some areas, it has boomed in households and elsewhere. By one early-warning measure -- the difference between the current and long-term levels of business and household credit as a share of gross domestic product, also known as the credit gap -- China and Hong Kong are still by far the riskiest countries tracked by the BIS. Here's a top 10 ranking:
Given the government's strong grip on markets and the economy, it's hard to know how China's risks will play out. That shouldn't be a source of comfort to the lenders that are piling in.
To contact the editor responsible for this story:
James Greiff at jgreiff@bloomberg.net
Before it's here, it's on the Bloomberg Terminal.
LEARN MORE