Labor
The Rise of the Not-Just-Freelancing Freelancer
More people are keeping traditional jobs while picking up extra project-based work -- and gaining an advantage.
by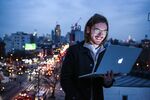 The rhetoric about the rise of free-agent nation, the gig economy, the sharing economy or whatever you want to call it has often outpaced the economic evidence.
That's partly because some of the rhetoric has been overheated, but it's also because the evidence is incomplete. Yes, the share of workers who report being self-employed or holding multiple jobs in the household survey conducted every month for the Bureau of Labor Statistics has been declining for years, but the questions asked by the government's survey takers don't always do the greatest job of capturing often-complicated modern work arrangements. And so, over the past few years, private organizations have attempted to fill the breach with employment surveys that contact fewer people (the BLS survey hits 60,000 households every month) but ask more and different questions. 1
One of the most important of these private surveys, Freelancing in America, conducted by Edelman Intelligence for the Freelancers Union and Upwork, an online talent marketplace, is out today. It's now in its fourth year, so we can see how things have changed since 2014. And they've changed in the direction of ... more freelancing.
The estimated number of workers in the five freelance categories in 2017 was 57.3 million, up from 53 million in 2014. That's 36 percent of the workforce, and if this year's rate of change were to continue, it would pass 50 percent in about 10 years. 2 To get to these big numbers, though, you do have to include as freelancers a lot of people who also have traditional jobs.
The biggest category of freelancer is now what the survey calls diversified workers, defined as:
People with multiple sources of income from a mix of traditional employers and freelance work. For example, someone who works part-time at a start-up, manages an Airbnb and does freelance coding.
Or, to be a little less Silicon Valley about it: someone who works part-time at Wal-Mart, babysits, and knits sweaters for sale. The No. 3 category, meanwhile, is moonlighters, those with traditional full-time jobs who do freelance work on the side. Independent contractors who do all their work project-to-project are still the second-biggest category, but their numbers have declined from 21.1 million in 2014 to 17.7 million now.
A similar survey conducted for MBO Partners, which provides back-office services for what it calls independent workers, found in June that the number of "full-time independents" (15 hours or more of independent work in an average week) had declined for the second year in a row, and that even the number of part-timers had gone down a little, while the ranks of occasional independents (those who did independent work at least once a month) had kept growing.
What's going on here is what happens at some point in every economic expansion, as a tightening labor market pulls contract workers, freelancers and temps into steady payroll jobs. During recessions and the early years of subsequent recoveries, employers lay off workers and the ranks of full-time freelancers grow. As recoveries gain strength, the independent-worker tide recedes.
Even amid these cyclical currents, though, there does seem to be an ongoing shift toward more freelance, project-based work -- which is what organizations such as the Freelancers Union, Upwork and MBO Partners have all evolved to serve. This is apparent in other measures such as the Census Bureau's annual count of "nonemployer businesses," of which there were 24.3 million in 2015, up from 15.4 million in 1997, and tallies of the number of 1099-MISC forms (what freelancers usually get from their clients) filed with the Internal Revenue Service.
Some of this shift may be due to stagnant wages in traditional jobs -- people are being pushed into freelance work because they can't get by on just the paycheck from their main job. But it's also the case that new online intermediaries, from Airbnb to Upwork, make it easier for people to earn on the side. And it seems that some workers (especially well-educated younger ones) are gravitating toward the "diversified worker" category because, well, diversification is good.
"It makes sense from an income security point of view to diversify risk," Upwork Chief Executive Officer Stephane Kasriel said when I sat down with him and Freelancers Union founder and executive director Sara Horowitz last week to discuss the survey. Horowitz similarly portrayed today's freelancers as forward-looking professionals with a better sense of the economy's risks and opportunities than traditional workers. "Freelancers are starting to have the advantage now, because they've had to develop coping skills," Horowitz said.
Now, of course Kasriel and Horowitz are going to be gung-ho about their membership/customer base. But there are lots of interesting numbers from the survey that back up their enthusiasm: 63 percent of freelancers (up from 53 percent in 2014) said they are freelancing by choice, not out of necessity; 55 percent of freelancers said they had participated in skill-related education or training in the past six months, compared with just 30 percent of non-freelance workers; 43 percent of freelancers reported having a bachelor's degree or higher, compared with 38 percent of non-freelance workers.
There's also a political angle. Lots of freelance workers purchase their own health insurance. Freelancers are more favorably disposed to the Affordable Care Act than non-freelancers. Oh, and 72 percent of freelancers said they'd be willing to cross party lines to vote for a candidate who supports freelancer interests. Heads up, members of Congress!
There is also a BLS supplement to the household survey on "contingent and alternative work arrangements" that was conducted in 1995, 1997, 1999, 2001 and 2005 -- and showed no overall gains in such work arrangements over that decade -- before being discontinued because of lack of funding. Economists Lawrence Katz and Alan Krueger commissioned a smaller version of the survey in 2015 and did find significant increases since 2005. And here's the exciting news: The full survey was conducted for the BLS again in May! And the results will be out at the end of this year or early next!

The numbers are derived from an online survey in July and August of 6,000 U.S. adults who had done paid work in the previous 12 months. Results were weighted to ensure demographic representation in line with 2016 BLS labor force statistics. The 2017 growth rates were 4.2 percent for freelancers and 0.6 percent for the overall workforce. If you extrapolate using the 2014-2017 growth rates, freelancers would pass 50 percent of the workforce in 20 years instead of 10.
To contact the editor responsible for this story:
Brooke Sample at bsample1@bloomberg.net
Before it's here, it's on the Bloomberg Terminal.
LEARN MORE