Transportation
Horrors! Uber and Lyft Are Convenient
They've added to street traffic and miles traveled -- but it also means more people are going somewhere.
by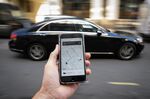 Ride-hailing services such as Uber and Lyft appear to increase the number of miles traveled by car in cities where they are heavily used, as well as reduce public-transportation usage, according to a University of California at Davis study released last week. 1
Yeah, isn't that weird? You make it easier and cheaper for people to take rides in cars, and more people take rides in cars.
That the advent of ride-hailing services has probably added to street traffic rather than reducing it has already been documented in New York and San Francisco. The new study by Regina R. Clewlow and Gouri Shankar Mishra for the UC Davis Institute of Transportation Studies is based on a survey of 4,094 residents of the Boston, Chicago, Los Angeles, New York, San Francisco, Seattle and Washington areas. It's full of interesting and useful data. But I want to push back a little against the notion, inherent in most news coverage of the report, that its findings represent some kind of major strike against Uber Technologies Inc., Lyft Inc. and their ilk.

People pay Uber and Lyft for rides because those rides are of value to them. In most cases, hailing a car substitutes for some other means of transportation -- mainly private car, sometimes transit, seldom taxis (which outside of New York and the downtowns of a few other U.S. cities were simply never a convenient option). Also -- and this would seem to be the main thing driving up vehicle miles driven -- 22 percent of ride-hailing trips appear to be trips that otherwise would not have been taken.
The top two destinations for ride-hailing trips are "bars and parties" (38 percent) and "restaurants and cafes" (24 percent). Also, ride-hailing users skew young, educated and affluent, and the main reasons people say they order an Uber or Lyft instead of taking their own car are "to avoid driving when I might have alcohol" and because parking is either too hard to find or too expensive.

In short, lots of youngish, reasonably well-paid people in and around big cities are using Uber and Lyft to go out on the town at night. In some cases they are doing this to avoid driving drunk 2 or having to park, in some cases because they find it more convenient than public transportation, and in some cases they are going out when they would otherwise have stayed home. The upshot may be an increase in vehicle miles traveled, but it's also an increase in, well, utility. More people are getting to do what they want to do, and more economic activity is transpiring. It also seems worth noting that while a recent study of ride-hailing trips in San Francisco did show usage spikes at both the morning and afternoon rush hours, prime time for ride hailing seems to run from about 6 p.m. to 10 p.m. -- that is, not when traffic is at its worst. All in all, this doesn't exactly sound like a terrible development.
It also doesn't exactly sound like an amazing transportation revolution that will transform our cities into utopias. There are lots of complications and problems that come with this new way of getting around, and lots of hard decisions cities will have to make about regulation and, probably, taxation. But the fact that it is enabling more people to get around more often than they did before is actually a good thing, not a problem to be remedied.
Clicking on this link will download a PDF of the report.
To contact the editor responsible for this story:
Brooke Sample at bsample1@bloomberg.net
Before it's here, it's on the Bloomberg Terminal.
LEARN MORE