U.S. Economy
Amazon Might Help Explain the Inflation Mystery
Online retailers look like they're keeping a lid on prices.
by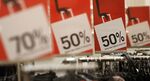 For all its efforts, the Federal Reserve can't seem to get inflation up to its 2 percent target -- a situation that Chair Janet Yellen has called a "mystery." If she's looking for clues, she might want to ask Amazon.com Inc. founder Jeff Bezos.
Increasingly, economists are talking about the "Amazon effect." The idea is that as online retailers gain market share, they're putting pressure on brick-and-mortar shops to keep prices down. This, in turn, might be preventing inflation from getting back up to normal.
The latest U.S. inflation data offer some support for this idea. As of September, the price index for commodities excluding food and energy -- a category including apparel, electronic goods and lots of other things that online retailers sell -- was down a full percent from a year earlier. The decline shaved about a quarter percentage point off the broader "core" inflation rate, which clocked in at just 1.7 percent.
It hasn't always been that way. For much of the 20th century, prices of retail goods moved more or less in sync with everything else. But in the 1990s, the rise of Walmart and imports from China precipitated sharp price declines -- to the benefit of U.S. consumers and the chagrin of manufacturers. The pressure seemed to be easing in the aftermath of the last recession, but it returned in recent years with the growth of online retail. Here's a chart:
To be sure, the Amazon effect might not yet be as powerful as the Walmart effect was. Economists at Goldman Sachs Group Inc., for example, estimate that pressure from online retail may be subtracting about 0.1 percentage point from the Fed's preferred measure of inflation, compared with as much as 0.2 percentage point for the big box retailers before 2008.
Still, if officials want to solve their mystery, it's a trend worth watching.
To contact the editor responsible for this story:
James Greiff at jgreiff@bloomberg.net
Before it's here, it's on the Bloomberg Terminal.
LEARN MORE