Wall Street
The Case Against Bridgewater Isn't Proven
The hedge fund is weird, yes, but not in the ways cited in the newsletter.
by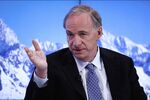 A piece in Grant's Interest Rate Observer, the charmingly cranky Wall Street newsletter, about Bridgewater Associates LP, the world's largest hedge-fund firm, has been getting a lot of attention this week. 1  It is titled "The face on the Wall Street milk carton," and it starts with some general tut-tutting at Bridgewater co-founder and spiritual leader Ray Dalio for spending a lot of time writing a book and tweeting and giving TED talks and doing other things that "have one thing in common: They are not investing."
This is true, but of course, if you had to describe in two words what Bridgewater's 1,500 employees do, "not investing" would be a pretty good fit. They have a computer to do the investing! Bridgewater runs on algorithms, and famously few of its employees have much visibility into how the algorithms actually work. They instead spend their time marketing the firm, doing investor relations, and -- crucially -- evaluating and critiquing one another. I once explained my theory of Bridgewater:
One stylized model for thinking about Bridgewater is that it is run by the computer with absolute logic and efficiency; in this model, the computer's main problem is keeping the 1,500 human employees busy so that they don't interfere with its perfect rationality.
On this theory, the computer might have gotten fed up with Dalio -- who by even his own account can be a bit much, as a manager -- and given him some carefully calibrated hints to make himself scarce. "Hey Ray," Bridgetron 4000 probably said, "your insights are so good, you should really put them in a book. And a TED talk. You deserve it. Don't worry about the investing stuff, I'll handle that."
But the meat of the piece is a series of oddities that Grant's editor Jim Grant and his colleague Evan Lorenz found in the Form ADV that Bridgewater files with the Securities and Exchange Commission, and that they take to be worrying signs about Bridgewater's business. Frustratingly, though, none of the oddities are especially odd.
We can just go down the list. First, Grant complains that Bridgewater does a pretty weak job of disclosing its fee structure. That's true. "Fees are negotiable, and individual arrangements are based on Client specific factors, including, but not limited to, assets under management and the risk/return parameters of the investment," begins Bridgewater's disclosure unhelpfully, before going on to note that it charges management and/or performance fees but not what those fees are. 2  Grant argues that this doesn't really fit the spirit of the disclosure requirements, but it would be tough to disclose a bunch of individually negotiated fee arrangements in any helpful way. "Renaissance Technologies, LLC, no more welcoming to prying eyes than Bridgewater, complies with" the requirement to disclose its fee schedule, argues Grant, but not really. Renaissance discloses a management fee of 0 to 5 percent and a performance fee of 0 to 44 percent. That's not so much more helpful than saying "we charge management fees, performance fees or some combination of the two." I mean, like every fund, Bridgewater charges a management fee between 0 and 100 percent and a performance fee between 0 and 100 percent, but the specific combination or combinations is a mystery.
Next, Grant alleges that "Bridgewater lends money to its auditor, KPMG, LLC." This seems to be just a misreading of the -- admittedly dense -- language of Bridgewater's Form ADV. 3 There is a lending relationship, and Bridgewater does disclose it, but it also says that KPMG is cool with it because the lenders are just holders of "non­voting shares of certain Bridgewater Funds" who are "unable to influence policies or management of the funds," and "have no relationship with the KPMG audit team assigned to audit the Bridgewater Funds." The lenders are investors in Bridgewater's funds. This sounds less like Ray Dalio lending money to his auditor to influence its audits, and more like a bank or a pension fund investing a lot of money in Bridgewater funds while also participating in a KPMG credit agreement. You would expect that to happen from time to time, and it does, not just to Bridgewater. Fidelity has the same issue, and the SEC has approved it. 4  Grant cites that precedent dismissively, but if it's fine for Fidelity I am not sure why it is weird for Bridgewater.
Next, Lorenz complains that Bridgewater gets most of its effective leverage by trading a lot of futures, 5  but is not registered as a futures commission merchant:
Filers of an ADV form check boxes to identify the businesses in which they're engaged. Bridgewater ticks only one: 'commodity pool operator or commodity trading advisor (whether registered or exempt from registration).' You'd expect that a firm as large and active as Dalio's might also mark 'futures commission merchant.'  
Well. Why? Renaissance doesn't. Being a futures commission merchant is a different business from running a hedge fund. Generally speaking, being an FCM involves ... trading futures on ... commission. 6 That is not exactly a core hedge-fund business. Being an FCM is about being a member of a futures exchange, and being a futures exchange member is no more essential to a hedge fund that trades futures than being a stock exchange member is to a hedge fund that trades stocks. 
Next: "Only two of the 33 funds" included in Bridgewater's disclosure "have relationships with prime brokers: Bridgewater Equity Fund, LLC and Bridgewater Event Risk Fund I, Ltd., in which 99% of the investors are Bridgewater employees." I guess that is a little weird? You don't need a prime broker to run a hedge fund, though it is rather customary, and they tend to be useful in providing leverage. One possible explanation is that if Bridgewater gets its leverage mostly through futures, it doesn't really need much in the way of prime brokerage relationships. It can get by with relationships with futures commission merchants. But, yes, this strikes me as kind of a strange disclosure. 
Next: Bridgewater owns a lot of its equities through exchange-traded funds. "You wonder why such a sophisticated shop would stoop to such a retail stratagem," says Grant. "Surely the Bridgewater brain trust could replicate the ETFs at a fraction of the cost that the Street charges." It is not hard to replicate an index ETF; you can just buy all the stocks. The usefulness of the ETF is in being able to trade macro themes quickly: Instead of having your trader figure out how to buy 500 stocks all at once, you can buy an ETF and get the exposure efficiently and in one go. And so lots of big institutions do use ETFs as strategic trading vehicles. It would be weird for an activist equity fund to hold most of its equities in ETFs. It's not that weird for a macro-ish risk-parity-ish asset manager to get its equities exposure that way.
Next, Grant worries that Bridgewater's ownership is a mystery:
Who, then, owns Bridgewater? The ADV report lists five Dalio family trusts, each holding at least 25% but less than 50% of Bridgewater, something that seems mathematically difficult. 
Anyone who's ever read a public-company proxy statement can guess what happened here. Dalio owns more than 25 percent but less than 50 percent of Bridgewater through an array of trusts. Because the trusts are all at least arguably controlled by him, they are all affiliated with each other, and his lawyers attribute all of their ownership to all of the trusts, for regulatory reporting purposes. And in fact the ADV discloses relatively clearly -- for an SEC filing -- that that's exactly what happened. 7  The mathematical difficulty turns out to be resolved by reading the disclosure. 8    
There are a few other oddities not in the ADV. Like many big money managers, Bridgewater has public institutions (state pensions, etc.) as clients. Those public institutions are subject to public-records laws, and so journalists sometimes try to find stuff out about the money managers by submitting freedom-of-information-act requests to the public institutions. Like many money managers, Bridgewater objects:
The New York Times, recently at work on a story about Bridgewater, submitted a request under the Public Information Act of Texas for details that Bridgewater would rather not have disclosed. The CFO of Bridgewater, Nella Domenici, registered the firm's objections in a June 5 affidavit: "These documents contain information that constitutes private, valuable and commercially sensitive trade secrets that, if disclosed, would substantially harm Bridgewater's ability to compete in the marketplace."
Of course I am rooting for the journalists, but Bridgewater is hardly alone here. The big private-equity firms have mounted legal and lobbying campaigns to shield their own fee arrangements from public-records disclosure. Hedge funds and private-equity funds tend to keep their arrangements with investors confidential, and none of them like the idea of state public-disclosure laws superseding their confidentiality agreements. Bridgewater's views may be wrong, but they are not unusual.
There is this, quoting Lorenz:
"An investor may take a measure of solace from the fact that the custodian of many Bridgewater funds is Bank of New York Mellon Corp., the world's largest custodian bank. An investor may take less comfort from the fact that many of the BoNY employees working on the Bridgewater account are, in fact, former Bridgewater employees. In December 2011, Bridgewater signed a deal with Alexander Hamilton's old bank: Bridgewater fired 91 back-office employees; BoNY hired these 91 practitioners of radical transparency to work Bridgewater's books in an outsourcing contract."
I mean. That does seem weird when you put it like that? But when it happened back in 2011 I guess it seemed okay:
"Bridgewater is transitioning certain back office functions to a third-party partner," said Alexei Nabarro, a Bridgewater spokesman, in an email. "In conjunction with that transition, 91 employees will now be employed by the outsource partner, but retain their jobs in Westport."
The people who were "outsourced" included "software developers and architects, risk and business analysts and various administrators and accountants for portfolios." The division of back-office functions between hedge funds and custodians/service providers isn't set in stone, and it could make perfect sense to ship these people from Bridgewater to BoNY. But, yes, one might want a custodian bank with a rather more arm's-length relationship to its customers. 9
So I don't know. One thesis in the Grant's piece is that Bridgewater's disclosures point to a lot of weird and suspicious stuff. They are not the first people to be skeptical of what Bridgewater is getting up to, and perhaps they are right to have doubts. But their specific concerns strike me as mostly wrong.
Another, broader, thesis is that Bridgewater is weird. I have made my views on that thesis fairly clear in the past. Bridgewater is weird! Though honestly I think Bridgewater would tell you that Bridgewater is weird. "You first walk into a nudist camp and it's very awkward," Dalio once said, to explain why people find Bridgewater a bit odd. "Anyway, 'eccentricity' is a relative term in the investment business," says Grant, accurately.
A third thesis is that Bridgewater's mantra of radical honesty and transparency is hypocritical, because it doesn't apply to the workings of Bridgewater itself: Even if Bridgewater's skimpy disclosures don't signal anything bad, they're not what anyone would describe as radically transparent.
I am sympathetic to that critique. Last month Dalio told Bloomberg Television: "We're about to take the algorithms we have, and we're going to give them to others." But he didn't mean the investing algorithms. He meant the "Principles" that he uses to manage Bridgewater, all the rules and iPad apps for self- and other-criticism that seem to make up the bulk of Bridgewater's non-investing activity. I wrote:
What does it mean that Dalio is giving away the management algorithms, while keeping the investing algorithms to himself? On the one hand, it suggests that at some level Dalio really does think that the culture is the point, that his true accomplishment is finding a new way to manage people rather than making a lot of money for investors. On the other hand, you know, the management algorithms are free; the investing algorithms are priceless. Bridgewater is giving away the algorithms that make it famous -- but it's hanging on to the algorithms that make it rich.
That is kind of their thing. They believe in radical transparency, as people. They think it's the right way to run your life, your business, your society. They just don't want to overdo it in running their hedge fund.
To contact the editor responsible for this story:
James Greiff at jgreiff@bloomberg.net
Before it's here, it's on the Bloomberg Terminal.
LEARN MORE