Health Care
The FDA Needs This Nudge to Speed Along New Drugs
The commissioner is gradually correcting a dangerously overcautious culture.
by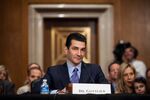 On Tuesday Food and Drug Administration Commissioner Scott Gottlieb seemed to be taking himself out of the running to replace the departed secretary of health and human services, telling Reuters, "I feel like I want to continue to follow through on the policies we've put out, and it's where I think I can be most effective."
If Gottlieb has indeed demurred, that's a smart move. High-level officials in the Trump administration have remarkably short life expectancies. (We're veering from fruitfly territory into that of the gastrotrich, an aquatic creature that lives, breeds and dies in the span of just three days.)
But below those high-volatility positions work layers of appointees who are far enough from the president to be somewhat insulated from the chaos, but sufficiently high up to make a major difference in how the government works. The FDA commissioner is one of those appointees, and Gottlieb represents a much-needed countervailing force against the agency's tendency to prize caution over speed. 1  He has forcefully and persuasively articulated a vision of an FDA that better weighs the costs of risk aversion against the costs of bad side effects.
It is a longstanding complaint among conservatives that the FDA is too demanding of new drug approvals. This can be overblown; they are not quite the bottom-covering bureaucrats of some conservative imaginations, so determined to prevent another Thalidomide that they will allow promising cancer treatments to languish unapproved.
The FDA does have a pathologically risk-averse streak in its culture, in part because it came out of the Thalidomide disaster looking very good compared to European authorities. But the FDA is subject to political pressure from patient groups, and the officials are also human beings whose families get sick, allowing them to see the human cost of delaying drugs.
There is a more subtle, and correct, critique to be made of the way that the FDA thinks about drug approvals, and Gottlieb has been one of the people making it best. The FDA has a tendency to ratchet up what it demands of pharmaceutical firms, in ways that slow drug development, or in the worst cases (especially for rare diseases), may make it entirely uneconomic.
This shows up not in the approval process itself, which is slightly speedier than the process in Europe. Instead it comes from making clinical trials more demanding, which in turns makes drug candidates look less appealing to pharmaceutical firms.
This is a wise strategy, from a risk-averse bureaucratic perspective. If you approve something that turns out, on wider use, to have terrible side effects that are too uncommon to be picked up in a clinical trial, the public, which is not well-versed in the arcane scientific questions involved, will tend to wonder why we bother having a Food and Drug Administration.
But the costs of slowing approvals and making them more expensive are much harder to see. If we don't get another statin that might have worked better than the existing ones for some subset of patients, how many people will even know about the statin they didn't get? And if a treatment for an extremely rare disease is delayed by a few months or a year -- well, the patients will be very upset, but there aren't very many of them, and by the time their complaints really register with the broader public, the drug will be approved.
Add to that the fact that the case for this caution often seems very sensible to the public. And when you suggest that maybe the FDA could go a little easier on the proof it demands of efficacy, you tend to get stares of incomprehension. You want the FDA to release drugs onto the market that don't work?
But consider the costs of such stringency. Drug researcher Derek Lowe has pointed out that in today's cautious climate, aspirin -- good not only for headaches, but for heart attacks -- would have "died in the lab," because it can cause severe gastrointestinal bleeding. Even penicillin, the modern miracle that ushered in an age of safer surgery, safer sex and longer lifespans, would give today's researchers pause, because of the risk of allergic reactions.
That drug was developed in a different time. It was tested in a slapdash manner -- and luckily, penicillin is so amazing that its benefits were obvious even without a rigorously designed trial. If the team that discovered it had tried to follow modern FDA-mandated clinical trial procedures for the drug, its introduction and dissemination would have been seriously delayed. Fewer men would have come home from World War II.
The potential delay of the next penicillin should worry regulators at least as much as the potential horrors of another Thalidomide. But human psychology being what it is, we view sins of omission more benevolently than sins of commission, even if the results are the same. So regulators are likely to worry more about approving a bad drug than about delaying a good one.
No one person, even an agency head, can single-handedly change that sort of tendency, especially when it's rooted in institutional culture. But they can slowly make headway with decisions about who to advance within the agency. And they can make procedural changes, of the sensible sort that Gottlieb has outlined, which over time can shape a newer, better culture. Some of those sorts of changes have already been made by predecessors, but more could be done.
While Gottlieb could undoubtedly do some good as secretary of health and human services, he'll do even more good by staying right where he is.
I should disclose at this point that Scott Gottlieb and I were debate partners at an Intelligence Squared event themed "Resolved: Obamacare is now beyond rescue." Since we carried the day, I may be perhaps prone to find him especially intelligent and effective. However, my admiration for him goes well beyond a single evening's performance.
To contact the editor responsible for this story:
Philip Gray at philipgray@bloomberg.net
Before it's here, it's on the Bloomberg Terminal.
LEARN MORE