European Economy
Schaeuble Leaves, But His Ideas Are Here to Stay
The outgoing German finance minister's recommendations for the euro zone reveal the limits of fiscal integration.
by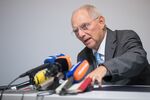 Wolfgang Schaeuble was the euro zone's longest-serving finance minister until the realities of German coalition-building sent him to the parliament speaker's post last month. His legacy, laid out in a recent interview and a leaked document, should be taken seriously. Even without him, Germany will continue to hold back support for sweeping reforms of the euro area's fiscal management, but will try to ensure its tougher policing.
Throughout his eight-year tenure, Schaeuble cut a perplexing figure: A self-confessed European federalist who put the brakes on closer financial integration. His recent interview with the Financial Times and a German government policy "non-paper" for Eurogroup colleagues, obtained by Bloomberg last month, show that he still is happy to ignore the contradiction between his views. Here's how he described it in the interview:
We always ... had this difficult balancing act, to persuade people in the EU member states that it was important to stick to the euro zone rules, in particular in the bailouts, and that this would contribute in the end to European integration. It's always a narrow tightrope walk.
It was a hard sell indeed. During the recent economic crisis, self-preservation was the order of the day, and rules usually recede into the background in such situations. Schaeuble argues that following them builds trust -- but that only happens over time, and during the crisis, Greece, Portugal, Ireland and Spain were effectively bankrupt. Long-term solutions were the last thing on their mind. 
Given Europe's current economic recovery, which affects most of these countries too, Schaeuble has the opportunity to say he was right all along, and his more "romantic" yearnings for deeper integration were merely held back by the lack of political support in member countries for European Union treaty change. No wonder Schaeuble's recommendations in the "non-paper" are a cold shower for integrationists, including French President Emmanuel Macron and European Commission President Jean-Claude Juncker. They are, in effect, about getting better at following rules.
Instead of pushing for treaty change to create a euro area finance minister and budget, which Schaeuble still sees as impossible, the three-page set of recommendations suggests turning the European Stability Mechanism into a European Monetary Fund. As such, it needs a mandate to monitor the economic situation in member countries in the interest of crisis prevention. Schaeuble suggests a role for the EMF in monitoring compliance with the 2012 fiscal compact, which requires European countries to balance their budgets. That role, however, can only be advisory: Giving the fund the formal power to monitor and, presumably, force compliance would require treaty change.
What the ESM can do within its current mandate is to work out a standard debt restructuring mechanism for countries that get in trouble: "The important aim is to provide the private sector with clear and predictable principles ahead of time, to avoid ad hoc solutions," the paper says. The EMF could also serve as a backstop for the euro zone's single resolution fund for banks, but only after euro zone members take measures to reduce banks' risk. Proposals to that effect are on the table, and they include, among other things, convergence in the way bank risks are treated in member states' laws and limits on banks' exposure to sovereign bonds. 
And that's as far as he's willing to go. Schaeuble doesn't want the ESM to turn into a fiscal transfer mechanism for the euro area or support a new deposit guarantee scheme. Such extensions of its role "would put much too great a strain on the ESM and go against its core purpose of bailing out countries in severe trouble." The euro zone doesn't really need a separate budget, anyway, according to the paper: It might be enough to link euro countries' contributions to the general EU budget with programs stimulating structural reforms in the euro zone.
A European employment insurance scheme? A euro debt capacity? No way. Nations should deal with their own unemployment by fixing structural inefficiencies. Debt "mutualization" -- sharing the risks and obligations among the EU members -- equals moral hazard: It "would only buy time and repeat national mistakes of the past."
As Eurogroup ministers bade goodbye to Schaeuble, they gave him an EU flag with their autographs. "Nothing will ever be the same," was Greek Finance Minister Euclid Tsakalotos's tongue-in-cheek contribution. Wishful thinking: Germany's position won't change with Schaeuble's move to parliament. His successor will likely be from the liberal Free Democratic Party, which also insists on firm fiscal rules and rules out debt "mutualization." Despite her fondness for Macron and his integrationist notions, it will be easy for Chancellor Angela Merkel to accept an incoming minister with these views because she has always agreed with Schaeuble's policies. They are hers as much as his.
In his new, powerful role as parliament speaker, Schaeuble would be able to rally support for EU treaty change and perhaps for more ambitious integration that would stretch the limits of what's currently possible under the treaties. But, judging by his parting shots, he won't do anything of the kind because he doesn't believe such ambition is necessary. Schaeuble defined the crisis-era Eurogroup more than any other minister, but his absence won't redefine the euro zone's financial management in the current era of relative prosperity.
To contact the editor responsible for this story:
Therese Raphael at traphael4@bloomberg.net
Before it's here, it's on the Bloomberg Terminal.
LEARN MORE