Editorial Board
The CFPB Gets Its Payday-Lending Rule Right
The regulator has listened to complaints and come up with a better approach.
by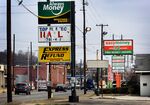 Payday lending has long done more harm than good to many cash-strapped Americans. At its second attempt, the Consumer Financial Protection Bureau has come up with a good way to reduce the damage.
Payday lenders provide a service that all too many U.S. consumers sometimes need -- small loans, usually of $500 or less, to help them get by until their next paycheck. But the money typically comes with a catch: Pay it all back in a couple weeks, or roll the debt over at interest rates that can exceed 400 percent. Many get trapped in loan after loan; in the end, some pay multiples of what they first borrowed -- not to mention the occasional harassment and unauthorized charges.
A few years ago, the CFPB saw the need for regulation, which had previously been left to the states. There was a model. By giving borrowers at least six months to pay and capping total charges, Colorado reduced abuses while ensuring that the service remained available. A federal bureau can't simply cap charges, but it can do something similar -- require payments to not exceed a certain percentage of income (say, 5 percent).
The bureau's first proposal was badly flawed. It called for credit checks so burdensome that only the most high-margin lenders -- that is, the most predatory -- would be able to stay in business. Such high compliance costs would probably have halted Colorado's successful experiment, and the lack of clarity over what is and isn't permitted would have scared away established banks looking to enter the market with cheaper options.
Complaints to this effect have apparently been heard. A final rule adopted this week focuses on the most troublesome loans -- those with terms of less than 45 days. To discourage debt traps, it gives borrowers longer to repay and limits the number of loans that can be made in quick succession. And it doesn't restrict longer-term amortizing loans of the kind that have worked in Colorado. This will allow the Federal Reserve and other regulators to provide the clear guidance (such as a 5 percent rule) needed for more banks to start making such loans.
Granted, the new rule is therefore only half the answer. And there's a chance that Congress will overturn it in any case. That would be a pity, though, because it's a step in the right direction -- protecting vulnerable borrowers without cutting off their access to credit.  
--Editors: Mark Whitehouse, Clive Crook
To contact the senior editor responsible for Bloomberg View's editorials: David Shipley at davidshipley@bloomberg.net .
Before it's here, it's on the Bloomberg Terminal.
LEARN MORE