Federal Reserve
Yellen Has Done a Great Job on Jobs
The economy has come a long way under her management.
by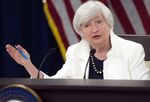 With President Donald Trump preparing to nominate the next head of the U.S. Federal Reserve, it's worth recognizing how far the economy has come under current Chair Janet Yellen. The latest jobs data offer an excellent opportunity.
The Fed has two main goals: Get unemployment as low as it can be, and keep prices rising at a steady, sustainable pace. When Yellen took office in February 2014, the economy was still far from both as it struggled to recover from the deep recession of 2007 to 2009. The unemployment rate stood at 6.7 percent, more than 2 percentage points higher than its pre-recession level. Annual wage growth was running at an anemic 2.2 percent, and consumer-price inflation was well below the central bank's 2 percent target.
Setting aside the confounding effects of hurricanes Harvey and Irma, the jobs report for September portrays an economy in a much better place. The unemployment rate was down to 4.2 percent, the lowest level in more than 16 years. Average hourly earnings were up 2.9 percent from a year earlier -- still a slower pace than in previous expansions, but a significant improvement on 2014. This all suggests that the country is at or near the Fed's employment goal.
But let's take a deeper look. As Yellen herself has noted, headline indicators don't fully capture the state of the job market. The unemployment rate, for example, counts only those who are actively looking for work, so it misses a lot of people who are on the sidelines or stuck in part-time jobs. A different measure, known as the employment gap, seeks to be more comprehensive by assessing how far the labor participation rate and part-time employment are from where they should be. 1 Here's a chart:
As of February 2014, the economy was still an estimated 6.6 million jobs away from full employment. As of September, though, the gap had almost disappeared. So even by this more demanding measure, the Fed under Yellen has accomplished its mission.
To be sure, the Fed hasn't achieved its goal of 2 percent inflation -- as of August, its preferred measure stood at just 1.3 percent, a situation that Yellen has called a "mystery." Some critics say that the central bank could have helped get a lot of people back to work much sooner if it had been more aggressive in pursuing its inflation target, or even set the target higher. That said, Yellen must reach consensus with other Fed officials, many of whom would oppose such policies.
Given the constraints she faced, Yellen has done an impressive job. May the president take notice.
I calculated the employment gap using a method developed by the economists David Blanchflower and Andrew Levin. For targets, I used the median Fed projection of the long-term unemployment rate, the Congressional Budget Office estimate of the potential labor force and the long-term pre-recession level of part-time employment. To smooth out monthly fluctuations, I used a three-month moving average.
To contact the editor responsible for this story:
James Greiff at jgreiff@bloomberg.net
Before it's here, it's on the Bloomberg Terminal.
LEARN MORE