Federal Reserve
Who Trump Will Choose to Lead the Fed
Governor Jerome Powell is the most likely nominee.
by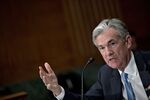 President Donald Trump has said that he will announce his nominee to head the U.S. Federal Reserve in the next few weeks.  Considering all the elements that will go into his decision, I predict that he will nominate Governor Jerome Powell.
Trump has reportedly interviewed four candidates: incumbent Janet Yellen, former Fed Governor Kevin Warsh, current National Economic Council Director Gary Cohn and Powell. As Trump and his team assess these candidates (and others), I believe they will put weight on two main considerations:
They like the current stance, and the likely evolution, of the Fed's monetary policy.
They believe the central bank's regulation of financial institutions is overly strict.
From Trump's point of view, the problem with Yellen is that she deliberately used her recent -- and highly visible -- speech at Jackson Hole to express strong concerns about Trump's anti-regulatory agenda. The problem with Warsh is that, given his track record, he would likely favor higher interest rates than the president wants. 
What about Cohn? Cohn was, until recently, president of Goldman Sachs. That experience would persistently contaminate public perceptions of his leadership if he tried to pursue the kind of pro-growth monetary policy or (especially) lax financial regulation that Trump favors.
That leaves Powell.
Powell has been on the Fed's Board of Governors for a little more than five years. During that time, he has never dissented on monetary policy decisions or publicly strayed from the central bank's stance (although, on at least one occasion, he was a key behind-the-scenes shaper of policy). It seems likely that, as Fed chair, he would follow a monetary path close to that favored by current chair Yellen.
At the same time, Powell has quietly but clearly argued in favor of easing bank regulation, including the (in)famous Volcker rule. He became the Fed's point person on oversight of large financial institutions when Governor Daniel Tarullo departed in early April. He has promised that the Fed will change its supervisory approach in ways that banks have long favored. 
So, Powell meets both Trump criteria, and that's why I expect the president to nominate him in the next few weeks. 
Would Powell be a good choice? I still think that Trump should recognize Yellen's excellent performance by offering to reappoint her. But I also believe that, if Yellen is ruled out, the Fed is most likely to achieve its dual mandate of price stability and maximum employment over the next four years if Powell is at the helm.
To contact the editor responsible for this story:
Mark Whitehouse at mwhitehouse1@bloomberg.net
Before it's here, it's on the Bloomberg Terminal.
LEARN MORE