Finance
In Defense of Adjustable-Rate Mortgages
They get a bad rap as being risky, but real-world evidence vindicates them.
by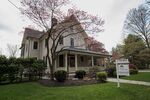 I'm listening to "Bad Day," and adjustable-rate mortgages seem to be getting more popular. It must be 2006. Can't wait to see what happens on the next episode of "Lost."
No, wait, that's my Spotify feed, not the radio. It's 2017, and we finally seem to be pulling out of our decade-long economic megrims. So you might wonder why people seem so eager to repeat the mistakes of the past.
CNBC reports: "The number of adjustable-rate mortgage originations jumped just over 40 percent from the first quarter of this year to the second, according to analysis by Inside Mortgage Finance. ARMs offer lower interest rates than fixed-rate loans, and today's ARMs usually have a fixed period of at least five years. That means the rate can change after five years. Still ARMs are considered riskier than the classic 30-year fixed mortgage."
That's the prevailing doctrine. But. The thing is … I don't know quite how to say this …
Oh, to heck with it: There's nothing wrong with adjustable-rate mortgages.
There, I said it. They're a perfectly fine financial product. In fact, they're probably not much better or worse than a fixed-rate loan.
It's true that the interest rates on ARMs reset, leaving the borrower vulnerable to all sorts of financial risks. A fixed-rate mortgage certainly does protect you from interest-rate risk, and I confess that every time I contemplate my 3 percent mortgage, a certain satisfied smile steals across my face.
But imagine for a moment that you are a mortgage lender, and you worry that interest rates might go up -- turning your fixed-rate mortgages into a money-losing liability. Unless you set that fixed rate high enough to provide a little extra protection against inflation. Which is exactly what lenders do.
This is approximately how the real world works: If you (the borrower) want someone (the lender) to take on more risk (by committing to a fixed interest rate), you have to pay them to do it (by paying an elevated interest rate). So while a fixed-rate product locks in the interest rate, it also locks in a premium for enjoying that lower interest rate. There is no free lunch.
But isn't it possible that ARMs, even if they look fine on paper, are still dangerous in real life?
Anything's possible, but we have a lot of experience with ARMs in real life, because believe it or not, in many places they, not the long-term fixed-rate mortgage, are the norm. A 2010 report from Michael Lea of San Diego State concluded: "The only other country that utilizes the FRM is Denmark." Yet when you travel abroad, you rarely find desperate homeowners begging on the streets because their adjustable-rate mortgage has reduced them to penury. Indeed, with interest rates so low, they've enjoyed a substantial financial bonus over the last decade.
That's because when ARM interest rates do go up, they're usually responding to inflation. Incomes also respond to inflation -- often with a lag, but rarely with such a big lag that homeowners are thrust into bankruptcy by their adjustable mortgage. Which is why the alarm over adjustable-rate mortgages is overblown.
In 2008 we feared that rising interest rates would force ARM borrowers into default. The reality was that during the financial crisis, interest rates dropped until bankers practically had to pay people to borrow money. The much-feared apocalypse of interest-rate-led defaults never materialized.
So why did people default? Because they had never had any realistic hope of making 30 years of payments that actually covered the interest and principal required to cover the cost of the home they had bought. Many of them were investors, planning to hold onto the house for a short time and then reap a hefty capital gain by selling. When the market stopped rising, some folks could not (or simply did not) continue making payments, and also could not sell for as much as they owed.
Others were people who had simply bought more house than their income could support. They could -- just barely -- make the payment at the introductory "teaser" rate, and were betting that either their income would rise, or they could sell the house for at least what they'd paid. But when the market collapsed, they were stuck in a house they couldn't afford.
ARMs were not the problem; shoddy lending was to blame, aggravated by exotic (and now basically extinct) mortgage variants such as the interest-only or negative-amortization loan. 1
Tighter lending standards can minimize the risk of another crisis like the last one. So can a requirement for a substantial down payment, which ensures that banks lend only to people with a demonstrated ability to save, and also ensures that buyers will be at less risk of going "upside down" on a mortgage where the principal owed exceeds the market value of the house.
During the frothiest days of the housing bubble, mortgage originators were not worrying about such trifles as whether the borrower could afford to keep making the monthly payments. But as the CNBC article notes, they have tightened standards considerably since then, to the point where real-estate types complain that lenders are restraining the ability of prices to rise.
As long as borrowers are being realistic about how much house they can afford (the conservative rule-of-thumb is "no more than 2.5 times your annual income"), they should be perfectly safe taking out an adjustable-rate mortgage. And as long as bankers are being responsible about underwriting, the rest of us need not worry that we're facing another housing bubble.
If bankers get lax in their underwriting standards, we should of course get very worried. But the proper response to that is to force them to tighten their standards, not to say nasty things about the poor, innocent adjustable-rate mortgage.
To contact the editor responsible for this story:
Philip Gray at philipgray@bloomberg.net
Before it's here, it's on the Bloomberg Terminal.
LEARN MORE