European Economy
Italian Businesses Don't Need a Cheap Lira After All
It has taken a while, but the country has learned to be competitive within the euro zone.
by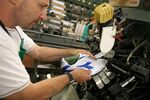 We have become so accustomed to bad economic news from Italy that few will have noticed how the euro zone's third largest economy seems to be back on the march. That has helped some with job creation, but it also has significance for the future of the euro area: It's undermining an article of faith among the euroskeptics, that the single currency is a ball and chain around the neck of Italy's famed export sector.
The Italian government recently upgraded its growth forecasts for 2017, raising them to 1.5 percent from 1.1 percent in April. The economy is expected to expand at a similar pace over the next two years, which is faster than what the government thought barely five months ago. 
The main driver of this growth is exports. The ministry of finance now expects them to rise by 4.8 percent on a year ago, compared to 3.7 percent in April. While imports are also rising faster than forecast, exports sales bring cash from abroad, which is helping domestic consumption grow at a healthy pace. Italy's current account balance is expected to swell to 2.4 percent of gross domestic product this year, up from a deficit of 3 percent in 2011.
The global recovery and world trade is a big part of this rebound. But there's something else happening too: Italian companies are learning to be competitive within the constraints of a fixed exchange rate. A new paper by a group of Bank of Italy researchers shows that Italy's global market share collapsed in the first decade since domestic exchange rates were fixed to the euro in 1998, but has now stabilized. Between the introduction of the single currency and the financial crisis, Italy's goods exporters suffered from a double whammy of competition from low-wage emerging markets, such as China, and domestic prices that rose faster than in other euro zone member states under the new fixed exchange rate. Small and medium-sized enterprises, which make up the bedrock of the Italian economy, were particularly slow to adapt. They failed to expand in fast-growing emerging markets and to move to higher-quality goods which would allow them to stop competing on price.
Since the start of this decade, though, Italy has begun to reverse the tide. The economy is increasingly specializing in sectors, such as pharmaceuticals, that do not suffer from Chinese competition. There is also a greater focus on goods, such as beverages and food, where Italy can differentiate itself by brand and reputation, regardless of the price tag. Finally, domestic wages and prices are rising somewhat more slowly than in other European countries, providing a small competitive boost.
A good example of this shift is what happened to Diadora, a company that makes sneakers and running shoes. In the 1970s and 1980s, Diadora was a worldwide leader in the production of tennis shoes, even sponsoring five-time Wimbledon champion Bjorn Borg. Marco Bettiol, a professor of economics at the University of Padua, describes how the company declined in the 2000s, under competition from cheaper Chinese manufacturing. Diadora has since bounced back: In 2009, a new owner took it over, re-shored some production, and moved back into making high-quality shoes. The gamble, which appears to be paying off, is that customers would be lured by the appeal of "Made in Italy" products, even if these are a tad more expensive.
Italy's improved competitiveness is relevant not only for its companies, but for the stability of the euro zone. Before the creation of the currency union, Italy's economic model relied on competitive devaluation -- printing more lire to make Italian exports cheaper -- which would help Italy sell goods and services abroad even if at the expense of higher inflation. Euroskeptic parties, such as the Northern League and the Five Star Movement, have long argued that Italy's exchange rate is overvalued and that returning to the lira is essential to restore competitiveness. The experience of the last couple of years has made this claim much harder to sustain. Little wonder the same parties appear much less convinced of their euroskepticism.
The problem with Italy's new strategy is that it may not last. Researchers at the Banca d'Italia warn that there is only so much slower wage growth and higher quality can achieve in the absence of a sustained productivity revival. Italy's productivity growth over the past two and a half decades has been abysmal, and while the recovery is helping to boost employment, efficiency gains remain on the whole limited.
One way for Italy to be more productive would be to increase its investment levels, which have plummeted since the crisis. Last year, Rome unleashed an array of tax breaks for firms that buy new equipment. The initial response was disappointing, as investment in machines and R&D fell in the first six months of this year compared to the same period of 2016. However, the most recent survey by the Bank of Italy, relative to the second quarter of this year, shows that animal spirits may be back: More than a third of polled companies would like to increase their investment compared to last year; only 15 percent want to reduce it. The government should therefore keep its tax breaks in place, as they may prove more effective now that the recovery is under way.
But Italian businesses need much more than tax incentives to have the confidence to invest. The World Economic Forum recently put Italy at 43rd place in its competitiveness ranking, highlighting problems relative to the quality of its institutions, labor and financial markets. Italy heads to the polls in the spring: That should be an opportunity for serious political parties to discuss solutions to these problems and push back against the old nostrum that Italy needs a cheap lira rather than a strong euro to thrive. As the last couple of years have shown, Italy does not need to leave the euro zone to thrive. Its prosperity hinges on the choices of its domestic leaders.
To contact the editor responsible for this story:
Therese Raphael at traphael4@bloomberg.net
Before it's here, it's on the Bloomberg Terminal.
LEARN MORE