Cars
Investors Are Betting on GM, Ford and Tesla. They Can't All Win.
If legacy automakers become "less disruptable," that's bad news for the disrupter.
by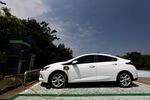 This week, markets have come to believe that the legacy automakers General Motors and Ford have gotten their groove back. Their stock prices have surged -- partly because of the spike in auto sales after so many were destroyed by Hurricane Harvey, and partly because of increased enthusiasm about their involvement in electric vehicles.
However, investors are divided at this moment, driving up the valuations of both legacy automakers and their rival Tesla. It's a zero-sum game, but investors are betting as though everyone can win.
The stock comeback began in late August as investors priced in the need for replacements after flooding in Texas. The fundamentals helped, as Ford and GM stocks had strong price-to-earnings ratios -- in the single digits. September auto sales, reported this week as the best month of the year, validated this optimism.
Yet this week's auto stock rally may reflect a longer-term consideration: plans by both GM and Ford to increase their investment and commitment in electric vehicles. On Monday, General Motors announced plans to sell 20 models of electric vehicles by 2023, saying the company "believes the future is all electric." On Tuesday, Ford announced a cost-restructuring plan, part of which involves shifting resources toward future electric models. Seemingly overnight, Wall Street has gone from seeing GM and Ford as also-rans in the electric-vehicle arms race, to perhaps leaders -- using their big balance sheets and profits from gas-powered vehicles to invest in their electric futures.
In the long run this is bad news for Tesla, even if markets haven't yet abandoned it. Part of the reason Tesla has such a gaudy valuation, briefly attaining a market cap higher than either GM or Ford, is that investors assumed it would be the next GM or Ford, in an electric vehicle future. An analyst at Nomura gave Tesla a $500 price target this week, saying that Tesla would grow its revenue from $8 billion in 2016 to $58 billion in 2021, and presumably higher from there. (By comparison, GM and Ford each have annual revenue in the neighborhood of $150 billion.)
But unless electric vehicles serve as a growth catalyst for the entire automobile industry, which nobody seems to be suggesting, there are only so many sales to go around. Tesla is better off when GM and Ford are struggling. If GM and Ford become "less disruptable," that's bad news for Tesla. We may just be at a point in the cycle where adherents in both camps believe they have cause for optimism, waiting for the data to prove one side right and the other wrong.
A similar situation occurred in the television industry a couple years ago. Netflix played the role of Tesla, as its streaming service was seen as disrupting traditional television and the cable TV bundle. Its stock was valued more on potential and user growth rather than current profits. It had rallied from a low of around $10 per share in 2011 to over $120 a share by the middle of 2015.
Companies like AMC Networks and Viacom, whose profits derive from the cable bundle, still had relatively elevated stock prices, as investors were willing to give them the benefit of the doubt on persisting in a content-streaming world.
At the time, Netflix was still too small, and its content offerings too limited, to make a serious dent in the revenue of the cable bundle companies. Since then, however, the cable stocks have fallen out of favor as "cord cutting" has accelerated. Netflix's stock continues to be valued as if it will be the winner in the industry.
In the auto industry, the legacy companies seem to be adapting. GM and Ford now seem to be in agreement with Tesla that electric is the future. But they can't all win the race.
To contact the editor responsible for this story:
Philip Gray at philipgray@bloomberg.net
Before it's here, it's on the Bloomberg Terminal.
LEARN MORE