White House
Puerto Rico Stumps Trump
A "great builder" should be able to manage the logistics of storm recovery.
by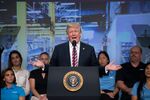 Donald Trump will always tell you that he is a "great builder."
"You can go ahead and speak to the guys who have 400-pound wives at home who are jealous of me," he told me several years ago. "But the guys who know me know I'm a great builder."
A month before he announced his presidential candidacy in 2015, Trump smacked around the people he knew would become his opponents as folks who "can't build":
He brought it up again when he announced his presidential bid on June 16, 2015: "I will build a great wall -- and nobody builds walls better than me, believe me."
The master builder was also a central character in his books.
"I'm a great builder," Trump wrote in "Great Again," his 2016 treatise about what ails America and how he would fix it. "I've built buildings all over the world. I've had tremendous success."
Getting skyscrapers, hotels and golf courses built requires myriad planning and management skills. Developers create and monitor supply chains so that building materials can get to construction sites. They assemble capable work crews and deploy them against deadlines and budgets. They come up with architectural plans, often from scratch, and have the foresight and imagination to balance beauty and practicality. They deal constantly with hurdles, surprises and complexities.
These are precisely the business and administrative skills that could be of great use today in Puerto Rico, which has been flattened by a pair of hurricanes and is mired in a humanitarian crisis.
Yet President Trump waited days to even acknowledge there was a problem in Puerto Rico. When he finally addressed the crisis on Monday, he did so via a series of Twitter free-for-alls that emphasized the island's debt quagmire rather than specifics about how his administration would relieve the hardships of 3.4 million people who are without electricity, have limited phone service, and are struggling to secure scanty supplies of water, food and gas.
To be sure, the U.S. military and the Federal Emergency Management Association have now sent thousands of federal personnel to deliver food and supplies.
But the White House set this response in motion more than a week after Hurricane Maria ripped across the island, on the heels of Hurricane Irma. Trump, who has waxed poetic about engineering a vast overhaul of U.S. infrastructure, seems stymied by the challenge of resuscitating tiny Puerto Rico's roads, bridges and power grid. Thousands of cargo containers stocked with relief supplies are piling up on docks in San Juan because there is no way to transport them to the island's interior.
"We're literally starting from scratch," Trump complained on Friday, in response to widespread criticism, including from members of his own party, about his lackadaisical management of the Puerto Rico crisis. "Nobody has ever seen anything like it."
A guy who campaigned on the notion that he is a singularly great businessman, dealmaker and builder shouldn't be hamstrung by a crisis like this one. Rather than throw up his hands and complain, he should be strutting his stuff, finding innovative ways to build new supply chains and distribute goods and services. He should be rallying people to the cause.
Unless, of course, he's not really who he says he is.
Campaign speeches, shot through with promises and partisan appeals, differ from the mundane but crucial work of managing essential services. Good governance -- whether the left or right is in charge -- may be shaped by values, but it is defined by process.
Trump isn't, shall we say, a "process person," as his history shows. New York's real estate community has never considered him to be a premier developer. The Trump Organization is a mom-and-pop operation. Trump drove the biggest business he ever ran, his casino company, into the ground.
He loves recounting how he developed the Wollman Rink in New York's Central Park, bragging that his business savvy led to the completion of a project that had stumped City Hall. But note, the Wollman Rink is an ice-skating rink. I repeat, a skating rink. It is not a landmark project. Getting an ice-skating rink up and running isn't as complicated as, say, helping to rescue Puerto Rico.
It's not only Trump's skill set that's wanting. His priorities are off, too. He cares about self-promotion more than problem-solving, or delivering on campaign promises.
The nuts and bolts of health-care policy eluded the president, and Puerto Rico's struggles appear not to interest him either. His observations on the territory's problems are preschoolish. Puerto Rico, he said on Friday, "is an island. Surrounded by water. Big water. Ocean water."
Trump has been much more animated about positioning himself amid the racially charged debate he ignited over how professional athletes voice their opinions on issues of social justice.
Perhaps the president tilts this way because he's more interested in marketing than building, and more interested in campaigning than governing. He's sensitive to these distinctions, of course, and whenever they surface always tries to spin them in his favor.
There's still time to embrace your inner builder, Mr. President. Puerto Rico needs a builder, not a marketer. 
To contact the editor responsible for this story:
Mary Duenwald at mduenwald@bloomberg.net
Before it's here, it's on the Bloomberg Terminal.
LEARN MORE