Tech
Google Invites Competitors. They Fail to Show Up.
European regulators' protection arrived too late to help many would-be rivals.
by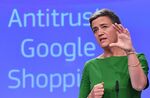 On Thursday, Google complied with the European Commission ruling that hit it with a 2.42 billion euro ($2.85 billion) fine and ordered it to share real estate on its search pages with rival comparison shopping services. From a customer's point of view, nothing has changed.
The historic EU decision punished Google for abusing its search dominance to push its own product-comparison service, Google Shopping. When a user searched for a product -- say, a toaster or a vacuum cleaner -- Google Shopping ads, containing thumbnail images, appeared above or next to the search results. Outside comparison services showed up in the search results, but often low down on the page or even beyond the first screen.
Google argued the comparison services couldn't make a dominance abuse argument because shopping searches are just as likely (and more likely in the U.S.) to originate on Amazon. But the commission disregarded this argument: It had accumulated a large body of evidence that Google's preference for Google Shopping had depressed traffic and all but killed the business of European shopping comparison websites.
Google is appealing the ruling, but to avoid paying up to 5 percent of its daily turnover for noncompliance, it has suggested a solution. A month ago, it told the commission that it would allow rival comparison services to bid for space in the box used for Google Shopping ads. Google Shopping would also be bidding, on equal terms with the rivals, in an arm's length arrangement. It would be required to operate profitably, meaning Google wouldn't subsidize the bids to keep the competition out. This is an improvement on Google's proposals during the commission's investigation, which were rejected by the shopping comparison services because they still gave priority to Google's own offering.
In advance of Thursday's rollout, Google provided The Wall Street Journal with an image demonstrating what the new product-comparison box would look like. Using "Cuisinart toaster" as the search terms, the mock-up showed ads from Kelkoo, Twenga and Shopzilla next to a Google Shopping ad. But here's what the box actually looked like in Germany at the time of this writing:

It was no different in the U.K., France, Ireland, the Netherlands -- only the number of Google Shopping offers sometimes went up to five. A Google spokesperson explained to me that this was perfectly normal since the system is new, and only displayed inventory from the comparison services that had taken part in testing it during development. More of them would sign up in the following weeks.
That sounds plausible, though it's surprising that more companies didn't take part in the testing. Why miss even a day of better sales?
At least one comparison service, the Netherlands-based Vergelijk.nl, did take part. On Wednesday its chief marketing officer, Joris Verwater, proudly tweeted a screenshot of search results for a Lego set, showing a Vergelijk result next to four Google ones. On Thursday, though, I couldn't replicate the result on Google.nl or on any other country site, using different languages. Only Google Shopping ads showed up.
In a way, it's not important whether, as Google promises, the comparison services will eventually start bidding for room in those boxes. It's already clear that years of Google and Amazon dominance have so undermined these small and medium-sized businesses that they are not nimble enough to compete -- or perhaps not wealthy enough to maintain a constant presence in the box with a large number of products.
That was the concern of Kelkoo Chief Executive Officer Richard Stables, who told The Wall Street Journal that bidding for the spaces might leave him with little or no profit. The commission ruling may have boosted competition commissioner Margrethe Vestager's political weight, but her intervention has probably come too late for the companies that were supposed to benefit from it.
That's the critical flaw in the current regulatory approach to tech. In the last 15 years, the industry has launched a blitz of bold market grabs, enabled by governments' technological backwardness and glaringly inadequate tax laws. Picking apart each of these grabs on a case-by-case basis can lead to setbacks for the Silicon Valley companies years later -- but by now, even a $2.85 billion fine is not going to stop Google in its tracks or force a major rethink of its market strategies. 
This doesn't mean regulators shouldn't act; late is better than not at all. And while there is no way to claw back the ground Silicon Valley has won, a level playing field can still be created, especially by closing the tax loopholes that allow companies like Google to pay much less than others. Then, when the next wave of technological innovation comes around, competition may be more formidable than it has been for Google.
To contact the editor responsible for this story:
Therese Raphael at traphael4@bloomberg.net
Before it's here, it's on the Bloomberg Terminal.
LEARN MORE