Europe
A Graying Germany Complicates Merkel's Task
Older voters have supported the establishment, which rewards them generously. But that is creating a dangerous rift.
by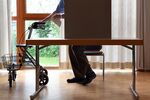 As she builds her new coalition government, German Chancellor Angela Merkel will be mindful of the need to counter nationalism at home and the imperative of finding a consensus on integration in the euro zone. But the election also exposed a demographic rift that could present an even bigger challenge to Germany's leaders: between a graying population that backed the establishment, and a young one that sought alternatives or stayed home.
Former German President Roman Herzog warned in 2008 that Germany risked turning into a "pensioner democracy" where "older generations plunder the younger ones." As the number of older people steadily rose, he noted, the political parties were paying disproportionate attention to them. Last week's election, where the biggest age cohort was voters over the age of 70, showed that Herzog may have been onto something. While the West is graying overall, Germany getting older faster, with the highest median age in Europe, and one of the lowest birth rates. And Germany's future will inevitably shape the future of Europe.  
The age rift played out as an establishment versus anti-establishment divide. The establishment parties (Merkel's Christian Democratic Union and its Bavarian sister party, the CSU; the Social Democratic Party; and the Free Democratic Party) drew their support from older voters, with CDU/CSU getting 41 percent of the over-60 vote, versus 32.9 percent nationally. Meanwhile, younger people disproportionately support either less establishmentarian parties or don't vote, showing alienation from the political establishment that has steered Germany since the end of World War II.
Martin Schulz, the SPD candidate, campaigned on higher pensions, while Angela Merkel's CDU rejected further pensions reform, which would bring a reduction in benefits. Despite Germany's reputation for fiscal rectitude, the country's pensions are headed for a cliff. Close to 80 percent of pensions remain pay-as-you-go and therefore unsustainable given Germany's graying. Company-sponsored private pensions are supposed to fill the gap, but they are reported to be 30 percent to 50 percent underfunded, and they are overwhelmingly defined-benefit schemes. Recent reforms to raise the retirement age slightly and introduce defined-contribution pensions schemes didn't come close to putting the country's liabilities on a sustainable path.
Meanwhile, little was heard on the campaign trail about education or family policy in a country with very low birth rates and where various policies, such as schools closing for the afternoon and a lack of affordable day care, make it harder for women to enter the labor force and may suppress the birth rate.
That will eventually become a problem for Germany's impressive economy. For all the plaudits that its system of skilled-worker apprenticeships earns, this year was the first one on record when a majority of firms cited skilled-worker shortage as the biggest risk for their business in a regular business sentiment survey by the Association of German Chambers of Commerce and Industry (DIHK), Politico reported.
There is also widespread agreement that Germany is falling behind in terms of digital infrastructure -- only about 2 percent of German internet connections run on fiber, according to Politico Global Policy Lab versus 20 percent for France (and growing), according to telecoms regulator Arcep. And yet that's another issue on which most candidates were silent; older voters don't game online or watch Netflix and so tend to worry less about download speeds.
Young people naturally react to an unresponsive establishment by disengaging from the process or voting for extreme parties. Voters of the anti-immigrant Alternative for Germany (AfD) tend to be young, for example. In this election, younger voters disproportionately either stayed home or voted for the non-establishmentarian parties (AfD, the Left Party and the Greens). The fortunes of the liberal FDP party also reflect this graying. It went from the biggest election disaster in its postwar history in the previous election to outperformance that virtually guarantees it a key role in Germany's future governing coalition by focusing its message on issues appealing to older voters -- security, immigration, EU bailouts -- rather than issues appealing to younger voters as it did the last time around.
The situation has changed in one important sense since Herzog made his call: The large number of migrants, whose numbers skew disproportionately young, profoundly alter Germany's demographics. Germany's Federal Statistics Office forecasts that by 2050, Germany's population will have shrunk to 63 to 72 million from 82 million today, with one-third of those aged 65 or above. By that time, fully half of the under-40 population could consist of immigrants of North African and Middle Eastern origin and their children, while the overwhelming majority of the elderly would be of native German background. This introduces an ethnic, cultural and religious dimension to a generational split that was already promising to exacerbate social and political tensions. The messy election that just past may be a sign of what's to come.
To contact the editor responsible for this story:
Therese Raphael at traphael4@bloomberg.net
Before it's here, it's on the Bloomberg Terminal.
LEARN MORE