Culture
Why Conservatives on Campus Love Milo Yiannopoulos
They have to endure the left's cruel censorship. They no longer have to endure it alone.
by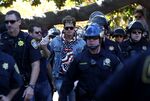 Milo Yiannopoulos: the troll who aims to trigger. He laments comediennes who have "contracted feminism." He jokes about being sexually molested when he was a minor. He's a gay man who regrets that gay men no longer marry women and make babies. Don't get him started on Muslims.
For two generations, the right's intellectuals have bridled at being painted with the same "-isms" and phobias that breach the margins of respectable discourse. Yiannopoulos welcomes the labels. So why would conservatives treat him as a martyr for their cause? He's everything they've tried to avoid being.
A rising generation of millennials on the right see things differently. They love Milo. (And yes, they all call him "Milo.") They subscribe to his Facebook feed and invite him to speak at their campuses. Ashton Whitty, a junior at UC-Berkeley, told me: "I want to stand and fight with Milo." Her conservative publication, the Patriot, invited him to speak at what was dubbed Free Speech Week.
It's easy to see the appeal. Whitty and her fellow conservatives at Berkeley are the victims of a double standard. In the "safe space" era, they appear to be the one group for whom the usual protections of speech codes and conduct do not apply. She tells me she is harassed. Leftists mine her social media for perceived offenses and send infiltrators to meetings of conservative groups. Her progressive antagonists call her "Barbie."
Troy Worden, a senior and the head of Berkeley's chapter of College Republicans, showed me an image of a poster on his phone that featured his photo with others under the banner: "Know your baby fascists." He told me he was dressed in black and wears a baseball cap because he doesn't want to be recognized.
When Yiannopoulos was first scheduled to appear at Berkeley, on Feb. 1, self-described anti-fascists rioted. The university canceled at the last minute. Worden was in the venue for the speech and had to be sneaked out of the building to hide in a dorm room. The next day, he was meeting with university administrators, and masked protesters began beating one of his friends in front of news cameras.
Ariana Rowlands, a senior at UC-Irvine and the head of its College Republicans, recounts inviting Yiannopoulos to her campus last year. After he appeared, administrators revoked the club's campus access. Yiannopoulos helped her publicize the case, and nine days later the club's status was restored. "A lot of the establishment Republicans just write off the millennials," she told me. "But Milo really connects to us. He understands us."
Rowlands, Whitty and Worden like Yiannopoulos because he defies the double standard that protects the left and threatens the right. He welcomes the opprobrium of those who would quiet him. When asked by one reporter whether he had exposed students who were illegal immigrants, he quipped, "I haven't, but that's a good idea." In this sense, Yiannopoulos is a lot like the candidate he cheered in 2016, Donald Trump. Both double down in the face of flabbergast.  
Also like Trump, Yiannopoulos is a showman. He prizes spectacle over substance. This was what his Free Speech Week at Berkeley was supposed to be. Initially, he promised a roster of well-known deplorables: Ann Coulter, Steve Bannon, Erik Prince, Pamela Geller, Mike Cernovich. Yiannopoulos would present an award named for Mario Savio, the late Berkeley student activist whose speech atop a police car during a protest became the symbol for the university's first free speech movement more than 50 years ago.
And it briefly looked like the troll would work. Over the weekend a group of semi-professional listeners set up an "empathy tent" in anticipation of Berkeley students psychically bruised by the demonstrations and counter-demonstrations. Posters urging students to resist the lineup -- "Trump's parade of ghouls" -- were plastered everywhere. When Yiannopoulos did set foot on campus, he brought a retinue of former military special operators and a professional dog handler for perimeter security. He was expecting a fight.
He ended up getting something much smaller. On Sunday, after the Berkeley Patriot withdrew its sponsorship from the event and another venue canceled plans for a press conference, Yiannopoulos, clad in an American flag hoodie, skinny jeans and matching jean jacket strode onto Sproul Plaza, cordoned off by police barriers. Locking arms with Cernovich and Geller, Yiannopoulos began to address a gaggle of about 50 fans and three counter-protesters from a group called Refuse Fascism. Many of his supporters lined up outside the barricades, but were barred from entering the plaza by police guarding the perimeter. 
A former Berkeley student and organizer named Xochitl Johnson began shouting "No Trump, No KKK, No Fascist USA," repeating it like a skipped record. Without megaphones or a PA system, the deplorables were prevented from speaking. After a few minutes of confusion, Yiannopoulos signed autographs for supporters and snapped some selfies. So ended Free Speech Week.
It would be easy to chalk this up as another setback for the troll king in a year of setbacks: Yiannopoulos was banned from Twitter, where his followers engaged in a campaign of racist and sexist abuse against the actress Leslie Jones. Simon & Schuster canceled his book contract, and the Conservative Political Action Conference disinvited him, after he brought unpopular nuance to the moral questions about "coming of age" relationships.
But the snuffing of Free Speech Week is not just another setback. In the last three years, a number of high-profile conservatives have been silenced on campus -- including riots at Middlebury that greeted libertarian scholar Charles Murray's lecture last year and protests from aggrieved students that led to cancellations of speeches from Condoleezza Rice and Ayaan Hirsi Ali. Many comedians today say they will not perform on campuses, fearing a backlash from the easily triggered.
In this sense, Yiannopoulos's provocations have begun to spark a wider examination of the conventional academic wisdom that much conservative dissent equals hate speech, and that hate speech is a kind of violence.
Consider that Berkeley's chancellor, Carol T. Christ, has begun to openly acknowledge the problem. In an interview this month, she told the Los Angeles Times: "Free speech has itself become controversial." Describing the attitudes of many students, she said: "They've been told strongly and repeatedly that certain kinds of speech are inappropriate. And so they don't understand the difference between how we say it's right to act in a community, whether it's a classroom or a dormitory, and what a public speaker is allowed to say in a public square." 
To address this state of affairs, Berkeley is now committed to security for conservative speakers. The campus spent $600,000 on security this month when Ben Shapiro, the conservative author and editor of the Daily Wire, spoke. Even though Yiannopoulos accused Berkeley administrators of deliberately sabotaging his Free Speech Week, the campus secured and cordoned off Sproul Plaza on Sunday for his brief appearance.
Of course there's a deep problem in our culture if the threat of violence has become so routine that campuses have to spend small fortunes to protect conservative speakers. This is the environment that makes Yiannopoulos relevant today. It's also why so many conservatives on campus adore him. Sometimes you need a troll to expose the censors.
To contact the editor responsible for this story:
Philip Gray at philipgray@bloomberg.net
Before it's here, it's on the Bloomberg Terminal.
LEARN MORE