Europe
Macron's Grand Ideas Will Be Shot Down, One by One
All but the softest and least important projects the French president proposed for Europe face strong, well-defined opposition.
by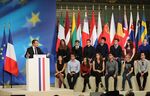 The barrage of reform proposals French President Emmanuel Macron unleashed on Europe Tuesday came so fast and furious that listeners had no time to wonder which ones were feasible or even desirable. It's worth asking that question now, even as German political party leaders prepare to discuss Macron's ideas during the coalition talks.
Macron's ideas have to be tested against the positions of four sets of forces that can influence progress: the EU bureaucracy; the German political establishment; the renegade Eastern European nations; and the fiercest tax competitors in the EU, such as Ireland, the Netherlands, Luxembourg and Cyprus. Almost each important Macron proposal goes against the interests of one of these groups.
The Brussels establishment will probably prove the least resistant to the French proposals. Juncker praised Macron's "very European" speech, and his chief of staff Martin Selmayr even live-tweeted it admiringly, especially Macron's insistence that companies (read U.S. digital platforms) be taxed where they make their money, not where they choose. Perhaps the only Macron proposal the commission is likely to fight is the one to cut the commission itself to 15 members from 28. 
The French leader's idea of harmonizing corporate taxes and social contributions is doomed, however, except in some limited version. There is no reason for the smaller, low-tax nations to undercut their own competitiveness. Notably, none of these nations signed up to the French initiative of imposing a temporary turnover tax on U.S. internet companies until a more solid common tax framework can be laid down.
Macron suggested starting the harmonization project with Germany. Maybe if a grand coalition of Christian Democrats and Social Democrats were in power for the next four years, that would have been possible. But now that the Social Democrats are bent on a period in opposition, Chancellor Angela Merkel is more likely to draft the Greens and the liberal Free Democratic Party into her government. Macron won't have a problem with the Greens, whose leader Cem Oezdemir tweeted his admiration of the speech -- and then repeated it in French: They are strong European federalists. But the FDP presents a major hurdle. It's in favor of each EU state determining its own economic policy, and it's firmly against Macron's proposal of a common euro-zone budget. FDP leader Christian Lindner called for winding down the European Stability Mechanism, out of which a common budget might grow; he's also called euro zone fiscal transfers a "red line" in coalition talks -- something that earned him a personal line in Macron's speech: "I have no red lines, only horizons." That line is unlikely to sway Lindner.
Building a coalition is a priority for Merkel now. German coalition agreements are detailed, binding documents. There's no going back on them. Everyone compromises, and some deal will need to be reached between the FDP and the Greens on European integration, but Merkel herself isn't likely to push enthusiastically for Macron's plan. Fiscal transfers are a sore point with all German center-right and right-wing voters, and she'd promised to claw them back after losing millions of them in last Sunday's elections. Merkel doesn't have much political space to accommodate Macron; even if talks with the Social Democrats are resurrected, she'll tread extra carefully.
It is, however, the Eastern Europeans that will present the biggest obstacle to most of the Macron ideas. They are wary of going too far toward the creation of an EU army, since the North Atlantic Treaty Organization is no fan of the idea and the eastern nations put too much stock in U.S. protection to risk undermining that with any potential European "intervention force."
They will also firmly reject the creation of a common asylum office and handing over their external borders to a common EU force: The nationalist governments of Poland and Hungary and the party likely to win the Czech election all oppose any refugee policy that could force them to accept more immigrants, and they're worried about their sovereignty. They will have heard Macron's praise of the European Commission's efforts to uphold the rule of law; the French president makes no effort to hide his enmity towards all they stand for.
These countries also don't want a carbon tax on energy imports because a rise in energy prices would be more acutely felt than in wealthier western European economies. They would also hate a forced minimum wage and a convergence in social contributions, especially if, as Macron suggested, it would be linked to EU budgetary allocations. And if a reform of the EU's Common Agricultural Policy might worry French farmers, Poland is by far their biggest net recipient, and it will fight tooth and claw to keep them and to avoid any political preconditions for receiving the money.
Macron's insistence on any and all of these proposals is tantamount to the old idea of a "two-speed Europe," in which core nations integrate quickly and leave the peripheral doubters behind. In fact, Macron said in the speech that "those who want to go further and faster need to be able to do so unhindered." That's where he diverges with Juncker who, in the state of the union speech, argued against the two-speed model.
Of all the ideas that poured out of Macron's horn of plenty, only the least ambitious ones are feasible. There will likely be little opposition to development aid for Africa, the creation of European universities to facilitate student exchanges, and a better procedure for mutual diploma recognition; cross-border lists for European Parliament elections probably wouldn't spook too many people, either. These are cherries every power center in the EU would gladly pick off Macron's multi-layered cake.
The French president would have done better to focus on a few of his potentially unpopular proposals if he really wants to overcome resistance to them -- or better, work quietly with the stakeholders, the way it's usually done in Europe. Even at home, where he enjoys vast executive power and a strong legislative majority, Macron worked diligently with the labor unions and employers before he presented his labor reform to the public. In Europe, he's adopted a different tactic for some reason -- perhaps because he knows the opposition will be formidable, and it's more important to him to declare where he stands than to overcome it.
To contact the editor responsible for this story:
Therese Raphael at traphael4@bloomberg.net
Before it's here, it's on the Bloomberg Terminal.
LEARN MORE