Early Returns
How Roy Moore's Win Roils Republicans
Jonathan Bernstein's morning links.
by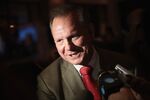 There are three big reasons why Roy Moore's defeat of President Donald Trump-endorsed Senator Luther Strange in the Alabama Republican primary on Tuesday matters. 
RIP, Trump's Magic: Sure, Trump is the least popular president of the polling era in terms of his first 250 days. But Republicans were always going to be hesitant to dismiss the president's popularity -- especially in Republican primaries -- in part because Trump's nomination and election was such a surprise, and in part because Trump did it with awful poll numbers. Trump's utter inability to move the polls despite being very visible in his support for Strange will remove some, and perhaps quite a bit, of the belief among Republican elites that Trump has some sort of special connection with their constituents. Indeed, Moore won by a larger margin in the runoff than he did in the first-round election. Which means they'll be less likely to give him the benefit of the doubt when deciding whether to do what he wants. 
It doesn't help that Democrats picked up two more state legislative seats on Tuesday. That doesn't really tell us anything more than what Trump's approval ratings say, but we're talking here about the perceptions of Trump's popularity. 
Cracks in the Senate Majority: Not only did Strange lose, but Tennessee Senator Bob Corker announced on Tuesday he will not run for re-election. Both states would have been absolutely safe for Republicans with those candidates on the ballot. Without them they're still very likely to go Republican, but it's possible to imagine Democratic upsets. Roy Moore really should be an awful general election candidate, albeit still a solid favorite to win anyway in the Alabama special this December. 
Democrats entered the 2018 cycle with seemingly no chance at all to gain a Senate majority, given that they needed three pick-ups and had only one good target (in Nevada) and only one realistic-seeming long shot (in Arizona). Now Jeff Flake in Arizona appears to be in big trouble, and Democrats have added a couple new potential targets, although they still have a few very difficult incumbent senators to defend.  
The Senator Roy Moore Effect: The most likely outcome is still that Moore wins, and Republicans retain their majority, perhaps a bit smaller or even a bit larger. But as unwieldy as their slim majority was to handle this year, it's apt to get worse with Moore -- who ran by bashing Majority Leader Mitch McConnell -- taking a seat. Corker's replacement will probably be less inclined to cut deals and compromise, too. And the primary result in Alabama will likely encourage other primary challenges to Republican incumbents at all levels. At the worst, for Republicans, they'll lose a handful of elections as a result of fringe candidates defeating easy winners and then losing to Democrats. But even if that doesn't happen, it's going to make governing more difficult for Republicans.
1. Matt Glassman on why the media paid far less attention to Puerto Rico than to Texas and Florida. 
2. Seth Masket on Jimmy Kimmel and celebrities in politics. 
3. Elizabeth Dekeyser at the Monkey Cage on a citizenship fight in Germany. 
4. My View colleague Tyler Cowen on Puerto Rico. 
5. I certainly agree with Kevin Drum that earmarks were good. I'm very skeptical however that they made, or would make, much difference. Congressional leaders still retain plenty of other ways, after all, to deliver particularized benefits to states and districts. 
To contact the editor responsible for this story:
Mike Nizza at mnizza3@bloomberg.net
Before it's here, it's on the Bloomberg Terminal.
LEARN MORE