Latin America
Investors Reward Argentina for Taming Inflation
Stocks? Up. Bond returns? Strong. The financial sector? Improving. Money managers have noticed.
by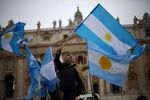 Where in the world can you get more than 11 percent from bonds since June and 41 percent from bank stocks this year, with inflation evaporating as the gross domestic product and currency strengthen? That would be Argentina, a financial integrity scofflaw for most of the past century, now bringing a bonanza to global investors.
Since he was elected president almost two years ago, former Buenos Aires Mayor Mauricio Macri is delivering on his promise to reverse the runaway cost of living and peril of default. He ended currency, price and trade controls and plans to eliminate the energy subsidies of his predecessor, Cristina Fernandez de Kirchner, that ballooned the deficit and ushered in the boom-and-mostly-bust cycle that 44 million citizens equate with modern times.
Macri still needs to create a sustainable tax base that will inspire enough foreign direct investment to let the 22nd-largest economy join the club of developed nations. But no one is crying for Argentina these days.
That's because Argentina is poised to become the fifth-best economy in the Group of 20 nations, with GDP growth rising to 3.2 percent in 2019 and exceeding the G-20 average for the first time since 2012, according to economists surveyed by Bloomberg. As recently as 2014, the country's anemic growth was 5.6 percentage points less than the GDP benchmark, data compiled by Bloomberg show.
The biggest catalyst for global investors is the outlook for inflation, which declined almost 60 percent from a peak of 42.7 percent in 2014 and is forecast to diminish to 11.5 percent by 2019, according to data compiled by Bloomberg.
Confidence in the government's ability to reduce the rising cost of living is reflected in the narrowing gap between the inflation-linked and non-inflation-linked bonds maturing in 2021 to 11 percent from 17 percent last November.
Argentina's dollar-denominated debt provided the eighth-best total return (income plus appreciation) among the 76 comparable bonds in the emerging market in 2016 and accounted for 3.6 percent of the market's gains, according to the Bloomberg Barclays Index. Argentina is No. 6 so far this year, representing 5.2 percent of the market's appreciation, according to the Bloomberg Barclays Index.
To be sure, the risk of Kirchner's political comeback remains. Between June 24, when she announced her candidacy opposing the Macri government, and Aug. 13, when she faltered in the primaries, credit-default swaps, which measure the perception of creditworthiness, deteriorated 13 percent before improving when the votes were known. The yield on Argentina's benchmark sovereign debt similarly climbed before returning to a level below its June 24 mark two days after the primary votes were disclosed, data compiled by Bloomberg show.
The Argentine stock market, by contrast, showed none of the bond market's anxiety over Kirchner, and the Argentina Merval Index of 22 companies continues to reach new highs this year. The peso also has stabilized with the receding Kirchner threat, and after the primaries had its biggest one-day gain since April, Bloomberg data show. 
Confidence in Argentina's sustainable prosperity is most vividly reflected in the market for 100-year bonds, where the Republic's dollar-denominated 7.125 percent securities maturing in 2117 are returning 11.19 percent since June and outperforming similar-maturing debt of Electricite de France, Canadian Pacific Railroad and the California Institute of Technology, among more than a dozen such exotic offerings, according to data compiled by Bloomberg.
The restoration of Argentina's creditworthiness coincides with the increasing diversity of its stock market, which five years ago had 38 percent of its market capitalization in the financial industry and 32 percent in energy and utilities. Today, financial companies account for 32 percent and energy and materials are 22 percent, according to data compiled by Bloomberg.
The natural resources of copper, gas and oil and skilled labor that made Argentina so compelling to investors 100 years ago remain prized assets. But these have long been offset by a fragile financial industry with insufficient capital. 
That historical weakness appears to be changing. Even with Latin America's smallest average market capitalization of $4.8 billion, compared to $24 billion, Argentina's seven banks are punching above their weight. Their 9 percent net interest margin, or how much interest income the banks generate from their assets such as loans, is the best in the region. The Latin American average for banks is 6.6 percent. Argentine banks also have a 28 percent return on equity, a measure of how well they turn shareholders' investment into profit. The Latin American average is 16 percent. Banks in Argentina have the region's lowest debt-to-asset ratio, 8 percent, more than one third less than the Latin American average of 29 percent.
If that isn't good enough, Argentina's banks are outperforming the giants in the world's major economies, with the highest return on equity and the greatest total return this year, according to data compiled by Bloomberg. 
No wonder the world's biggest money managers are spending a lot more time in a country that began the new century in default.
(With assistance from Shin Pei)
To contact the editor responsible for this story:
Jonathan Landman at jlandman4@bloomberg.net
Before it's here, it's on the Bloomberg Terminal.
LEARN MORE