Books
Idea Theft Is Hard to Prove. That's Good.
A writer accuses another of stealing his idea. Let's try to get to the bottom of the story.
by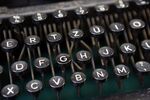 I've had in my possession for awhile now a draft of a novel written by a masters-degree candidate at the University of Virginia. Titled "The Bold Harpooner," it was written in 2004 when the student was 29.
Although the manuscript is a long way from being a polished novel, aficionados of literary fiction will recognize its main characters, starting with a talented shortstop named Henry Skrimshander, who helps turn tiny Westish College's perennially inept baseball team into a band of baseball-playing brothers. His gay, cultured roommate, Owen, is a reserve on the team who Skrimshander badly injures with an errant throw, an act that drives much of the plot.
Guert Affenlight, the heretofore heterosexual president of Westish, falls hard for Owen, setting up a parallel plot. Afflenlight's daughter is Pella, who returns to Westish after fleeing a desultory marriage, a lost soul who gradually finds herself with the help of Mike Schwartz, the team's battle-weary catcher, whose devotion to his school, his team and his protégé Henry knows no bounds.
Yes, that's right. The student-novelist was Chad Harbach, and "The Bold Harpooner" was a draft of "The Art of Fielding," or at least the first half of it; it ends before the plot really kicks in. A publishing sensation when it came out in 2011, "The Art of Fielding" went on to sell some 600,000 copies and put a substantial sum in Harbach's pocket--his advance alone was $665,000. It is now being made into a movie.
"The Bold Harpooner" was sent to me about two years ago by Charlie Green, a 55-year-old Dallas restaurateur who last week filed a copyright infringement suit against Harbach. At Swarthmore College in the 1980s, Green was the co-captain and third baseman of his small school's perennially inept baseball team--which went on to have a magical season his senior year, going 26-3 during the regular season, winning its conference championship, and making its only appearance in the Division III NCAA tournament.
Starting in the mid-1990s, Green began working on first a screenplay and then a novel trying to recreate that season. In its most consequential iteration, Green's novel, called "Bucky's 9th" tells the story of, well, a perennially inept baseball team at a tiny college that comes into its own after a star shortstop (Bucky) is persuaded to enroll. Just like "The Art of Fielding." And in the climactic scene, Bucky, who has missed most of the championship game, arrives in time to pinch hit in the bottom of the 9th inning, where, instead of trying to win the game, he sticks his head out over the plate on an 0-2 pitch and purposely gets beaned. Just like Henry in "The Art of Fielding!" There are plenty of other similarities as well.
Over the years, Green had gotten just enough encouragement from agents and editors to keep on rewriting in the hope that his book would one day be published by a major house. An editor, Jess Taylor, had worked with him and believed "Bucky's 9th" was worthy of publication. So of course he was crushed when he read "The Art of Fielding." He knew his publishing dream was over.

He also grew angry as he read it, because the similarities between the two books were too frequent, in his mind, to be mere coincidence. He came to suspect that Harbach had somehow gotten ahold of his unpublished manuscript and had lifted various plot points. In 2006, Green's agent had sent his book to a number of publishers, and his theory was that an editor had slipped it to Harbach. After all, Harbach was by then part of a clique of rising young writers and editors in New York, most of whom knew that he was struggling, both economically and literarily, with his book. As his friend Keith Gessen would write in Vanity Fair:
Chad no longer had a job, and I was beginning to worry. I knew he was going back and re-writing early sections of his book. And I knew from my own experience that this was dangerous… And Chad had run out of money. For years he had been ignoring his student loans, and in our Brooklyn apartment we could no longer answer our landline, because the collection agencies now called so often.
Gessen's Vanity Fair article clinched it for Green. With Harbach having such problems, wouldn't one of his publishing pals have wanted him to know that another manuscript about a small college baseball team was floating around New York? Showing it to him would be an act of kindness, an act of friendship. Taylor, who had been a book agent before becoming a manuscript doctor, also believed that the similarities could not be chalked up to coincidence alone.
Green came to me in the hope that I would write about the similarities between the two books, and maybe even find out whether something underhanded had transpired. Though I never pursued the story, I spent enough time around Green to know that he wasn't crazy, or even particularly jealous — he was always quick to acknowledge that "The Art of Fielding" was a better-written book than his.
Rather, having spent two decades working on this one idea, he had a hard time believing that someone else would have had essentially the same idea, employing not just a similar backdrop but similar plot points and other touches. So I wasn't surprised when I learned that Green had finally decided to file suit, alleging in his complaint that Harbach had "misappropriated" Green's content and had used it to transform "earlier unsuccessful drafts" of "The Art of Fielding" into an acclaimed best-seller. 
Copyright infringement suits of the sort Green just filed are awfully hard to win. First, a plaintiff has to show that the defendant — in this case, Harbach — did indeed have access to "Bucky's 9th." If the defendant never had access to the work, that's the end of the case, no matter how many plot points are the same. And Harbach insists he never saw "Bucky's 9th."
Second, though, even if Harbach had seen "Bucky's 9th" — indeed, even if he had borrowed some elements from it — that doesn't necessarily mean that he committed an act of copyright infringement. The standard the courts use is called "substantial similarities," and though it is a surprisingly ill-defined term, with different courts having different tests for gauging it, it essentially gives writers (and filmmakers, and other artists) broad latitude to borrow from other works.
For instance, if Shakespeare owned the copyright to "Romeo and Juliet," would he have been able to sue Leonard Bernstein and Stephen Sondheim 1 for writing "West Side Story?" Almost surely not. In his 1989 book "Stolen Words," Thomas Mallon tells the story of Anita Clay Kornfeld, who spent years pursuing a lawsuit against the creators of the prime-time soap opera "Falcon Crest," which she said was derived from a book she had written a year before the show went on the air. 2 Even though the two works did share a number of similarities, she lost. Courts don't make it easy to win lawsuits like Kornfeld's — or Green's.
When I met Green two years ago, he gave me a lengthy document he and Taylor had put together, which they called the Comparative Analysis, listing all the similarities between the two books. It was indeed an impressive list, 18 pages long (not including addenda), and included everything from similar phrases to similar scenes to similar plot points.Some of it was silly — in both books, pro scouts are camped "behind the backstop," and in both, a player has his "equipment bags slung over his shoulder."
But some aren't so silly. In "The Art of Fielding," the affair between Affenlight and Owen threatens to erupt in scandal. "Bucky's 9th" has an eerily similar subplot. In both books, there is a very odd two-paragraph reverie in which the fathers recall a moment of football glory. And then there is that ending — the disappearance of the star, his return at the end to pinch-hit, and, strangest of all, the fact that the denouement is neither a home run nor a strike out, but a beaning.
When I first read Green's analysis I found it pretty persuasive. But then I read "The Bold Harpooner," and discovered, to my surprise, that dozens of the similarities Green points out in his analysis were in that early draft. Harbach's manuscript, you'll recall, was written long before he was a well-connected New York writer, and several years before Green sent "Bucky's 9th" to New York publishers. The similarities between the two works are just coincidences. There's no other explanation.
"If that's what it turns out to be, that's fine," Green told me recently. "But I just want to know." Maybe, he mused, what happened is that once Harbach saw his book, it helped complete the plot he had not been able to finish at the University of Virginia. Maybe seeing Green's plot, he was able to stop endlessly rewriting and move forward with a fully-realized story. Maybe… Maybe….
(Harbach's agent says the he has time-stamped drafts that will show that all the important similarities were in place well before 2006, when Green's book was sent around.)
Green told me that what he wanted most of all was to get to the discovery phase of the lawsuit so that he could finally find out what, if anything, really happened. I told him that I thought he had a tough row to hoe even to get it that far. Harbach's lawyers will undoubtedly ask that the case be tossed out before trial, which will come down to whether the two works are "substantially similar" enough to merit continuing the case. It won't help Green's cause that his book is unpublished and his theory of how Harbach might have gotten ahold of it is pure speculation.
There are good reasons that plaintiffs making claims like Green's tend to lose in court. One is that courts give artists a great deal of leeway in creating original works even when they use bits and pieces of other people's art. Free expression would be difficult without such leeway.
But another reason is that coincidences are part of life, even strange coincidences that defy explanation. And the law tries to allow for that. Millions of people have written unpublished novels, and it is plausible that two people, in different parts of the country, with different life experiences, will write books that have overlapping plots and scenes that are similar. It happens.
Charlie Green is a likable man and a decent writer. His anguish over "Bucky's 9th" and "The Art of Fielding" is real. But sometimes you have to go through life never knowing the answer to a question, even when it burns a hole in your soul.
Sometimes the best course is just to let it go.
(
Removes erroneous example of apparent similarities between "Bucky's 9th" and "The Art of "Fielding" in 17th paragraph.
)
To contact the editor responsible for this story:
Jonathan Landman at jlandman4@bloomberg.net
Before it's here, it's on the Bloomberg Terminal.
LEARN MORE