Editorial Board
Portugal's Comeback Is Only a Start
Lisbon must repair its banks and promote investment to ensure the recovery lasts.
by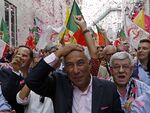 If there's a symbol of the breadth of the euro zone's recovery, it's Portugal. In 2011, it had to accept an international bailout on punishing terms. Today, three years after graduating from that program, growth and confidence have returned. As if to mark the achievement, S&P Global Ratings just raised Portugal's sovereign rating to investment grade.
This success is real -- but making it last will require more work. The banking system is struggling under the weight of nonperforming loans, which squeezes credit for good borrowers. The government is cutting capital projects to increase its day-to-day spending. These and other issues will have to be addressed for Portugal to turn a cyclical upswing into faster long-term growth.
Portugal has been investing too little for years -- and for the past two decades, the problem has been getting worse, not better. In turn, lack of investment has held back innovation. Since the mid-1990s, total factor productivity (which measures how efficiently capital and labor are used) may have actually declined.
One remedy would be for Portuguese banks to support the growth of dynamic new companies. The opportunity is there. Lisbon has become a center of Europe's tech industry: Its annual Web Summit is one of the most prominent such events in the world. Yet instead of looking forward, Portuguese banks are still preoccupied with the bad loans of the past. The government has made a start on this, but should do more to encourage orderly bankruptcies, restructurings and write-offs.
The government also needs to invest more in infrastructure. With public debt at roughly 130 percent of national income, Lisbon has little freedom of maneuver: More capital spending will require tighter control of other outlays. Unfortunately, Prime Minister António Costa and his government have done the opposite. Some public-sector workers, for instance, have been given pay rises even though their incomes are higher than in the private sector. Meanwhile, in 2016, infrastructure spending fell to its lowest level in more than 20 years.
Portugal has staged a remarkable recovery, but Lisbon can't relax. Further progress demands more investment, stronger banks, and the right kind of fiscal discipline.
--Editors: Ferdinando Giugliano, Clive Crook.
To contact the senior editor responsible for Bloomberg View's editorials: David Shipley at davidshipley@bloomberg.net .
Before it's here, it's on the Bloomberg Terminal.
LEARN MORE