U.S. Senate
The Latest Obamacare Repeal Is the Shoddiest Yet
For Republicans pushing the Graham-Cassidy bill, it's September or bust.
by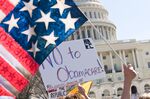 In case people didn't think the last round of health-care reform failure in the Senate wasn't enough of a fiasco, Republicans are gearing up to try again.
The new version, sponsored by Senators Lindsey Graham of South Carolina and Bill Cassidy from Louisiana, would do a number of things to a health care system that millions rely upon. A main selling point is giving states additional ability to act on their own -- which means that virtually all of the popular protections of the Affordable Care Act, including on pre-existing protections, would be at risk -- and also slashing health care funding. What exactly would it do? It's not much clearer than that now and won't get much clearer until next month. The Congressional Budget Office has announced they "will not be able to provide point estimates of the effects on the deficit, health insurance coverage, or premiums for at least several weeks."
The reconciliation procedure that prohibits filibusters and therefore allows Republicans to pass a bill with a simple majority is gone in 12 days, three of which are weekend days. Since Graham and Cassidy just wrote the bill, there's not enough time to score it. Their only option is to plunge ahead, trying to get it approved by both the Senate and then the House before the calendar flips to October, when they'll need Democrats. 
If Republicans cared about federal budget deficits, they wouldn't proceed without a CBO score.
If Republicans cared about how many people would be covered by health care, they wouldn't proceed without a CBO score.
If Republicans cared about how expensive health insurance premiums were, they wouldn't proceed without a CBO score.
The truth? Avoiding a CBO score and the negative publicity that sometimes comes with it isn't always a damning indictment of the measure in question. It's completely possible that it happens to be well designed and thoroughly studied, just unpopular enough to make swing votes nervous. Maybe last-minute amendments were added to a bill that had previously been assessed properly. It might even be the case if an outside, trusted set of experts had already scored out the bill. Avoiding the CBO could sometimes amount to a cynical ploy, but in only a very limited way. 
But that doesn't appear to be the case with this hasty substitute for the last couple of hasty substitutes that failed on the Senate floor before their August recess. It's quite likely that no one has any idea what this latest version would actually do to the health care system if it was enacted.
In other words, it's bad if Republicans are trying to put one over on the American people. But it's considerably worse if they are knowingly putting one over on themselves, and don't care.
So what's going on? 
It could be that Republicans simply are indifferent about the effects of what they're doing. 
Or it could be that this is yet another attempt to duck the blame and redirect it back to the House, after the House quite effectively (if inaccurately) pinned the blame on Majority Leader Mitch McConnell, Arizona Senator John McCain, and the rest of the Senate Republicans. If the Senate can manage to pass something, then it will be up to the House to do something, and it's by no means certain they will do so -- the least conservative members on the House side might object to this because it will cost their states money, while the House Freedom Caucus might decide that it's not conservative enough.
Or maybe both of those things are true. After all, there's a very decent chance that if the bill passes the Senate it will also clear the House and actually become law, and Republicans in the House, Senate, and White House will be stuck with responsibility for the results. Maybe they just care far more about being blamed for not repealing Obamacare than they do about potentially wrecking the health care system and perhaps even the economy along with it.
Some may recall that happened to Maurice Sendak's Pierre when he repeatedly ignored the consequences of what he was doing: He wound up being swallowed by a lion. Perhaps congressional Republicans will escape that fate. Perhaps they won't. 
Either way, it's a pretty pathetic version of lawmaking. 
To contact the editor responsible for this story:
Mike Nizza at mnizza3@bloomberg.net
Before it's here, it's on the Bloomberg Terminal.
LEARN MORE