Companies
Stumbling Isn't Humbling for This Hedge-Fund Guy
Mick McGuire won a proxy fight at Buffalo Wild Wings. The stock tanked. Now he's playing hardball elsewhere.
by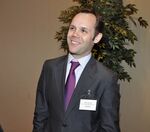 In our last episode of "Mick McGuire: Activist Investor," our hero was flying high.
It was early June, and the young hedge-fund manager, who earlier in his career had played Robin to Bill Ackman's Batman, 1 had made a kill of his own, winning a proxy battle against Buffalo Wild Wings Inc., the struggling restaurant/sports bar chain. In launching the proxy fight, McGuire 2 promised the company's investors that he had a plan that would double or triple the stock price, including selling off company-owned restaurants to franchisees, improving "the four-wall margins of the company units," and "allocating capital efficiently."
When the dust had settled, McGuire's hedge fund, Marcato Capital Management, had landed three of its four director candidates on the board, McGuire included. Wall Street cheered. The longtime chief executive, Sally Smith, announced that she would resign as soon as the newly constituted board named a new CEO. Buffalo Wild Wings' stock, which had dropped 30 percent from its high point in mid-2015, jumped from $143 a share to $146 in the first few days after the proxy results were announced. Anticipation was high.
Now our story continues.
The problem with financial engineering—and let's be honest, that's what activist investors like Ackman and McGuire do—is similar to the problem with computer modeling. No matter how clever your model, sometimes the real world just won't fall into line. As it turns out, one of the things you can't financially engineer is the price of chicken wings.
In 2015, back when Buffalo Wild Wings stock was peaking, the wholesale price for a pound of chicken wings was around $1.60. During McGuire's proxy fight in late 2016 and early 2017, it rose to $1.80 or so. But by July, when Buffalo Wild Wings announced its second-quarter earnings a month after the proxy fight, they were $2.05 per pound. Speaking on the earnings call, Smith, now a lame-duck chief executive, called it "a historic high for wings this time of year." And, she said, chicken-wing costs were a major reason profits were 63 percent lower than the second quarter of 2016.
During that same earnings call, the company announced that it was looking to sell restaurants to franchisees, per McGuire's plan. And it announced several other McGuire-inspired "margin-improving initiatives," as it called them.
But Buffalo Wild Wings had more pressing issues than four-wall margin improvement. Thanks to those skyrocketing wing prices, the company had to end "Half Price Wings Tuesday," one of its most popular promotions and a major driver of traffic, according to the company. (It's now offering two-for-one boneless wings instead. Boneless wings are cheaper.)
Several top Buffalo Wild Wings executives retired after the proxy fight. The search for a new CEO was proceeding at a snail's pace. The mood in the executive suite was said to be glum. And Buffalo Wild Wings' share price? After that initial upswing in early June, the stock started to drop and didn't stop for three months, bottoming out at $96.50 on Sept. 7. (The stock has since risen to $107.) To rephrase: the stock has fallen 25 percent since McGuire won the proxy fight.
And where was our protagonist while all of this was going on? You'd think he would be dug in at Buffalo Wild Wings, trying to repair his new trophy property as quickly as possible. But you would be wrong. Undeterred by his Buffalo Wild Wings losses, McGuire had turned his attention to his next target: Deckers Outdoor Corp., a seller of shoes and boots. Its brands include Teva sandals and Sanduk shoes, but its biggest brand by far is Ugg boots, which used to be hot, hot, hot and now is not, not, not.
Does the fashion-shoe business have much in common with the casual restaurant business? Not really. Do you revive a declining boot brand the same way you bring back a troubled chicken-wing chain? Again, no. But so what? Activist investors like McGuire roam the land looking for all kinds of companies that underperform relative to their peers, confident that their financial wizardry will allow them to devise ways to maximize shareholder value. The particular industry scarcely matters.
In late June, less than a month after his Buffalo Wild Wings victory, McGuire's favorite financial network, CNBC, somehow managed to obtain—exclusively!—a letter McGuire sent to the Deckers board. Several months earlier, Marcato had taken a 6 percent stake in the company, prompting Deckers to hire investment bankers and conduct a "strategic review." Now, as CNBC put it, McGuire was "turning up the heat." His opening gambit was an audacious ultimatum that made his Buffalo Wild Wings demands seem tame by comparison:
Should Deckers' strategic review process not culminate in a sale of the company at an attractive value to all stockholders, we will be prepared to seek significant board change at the company's next annual meeting by nominating a slate of director candidates to replace the entire board.
That's right: with 6 percent of the stock, McGuire was telling the company to sell to the highest bidder, or else! He further complained that the board members lacked the appropriate experience with mergers and acquisition to pull off a satisfactory sale. And he added that the board chairman, Angel Martinez, who had been chief executive from 2006 to 2015 and had overseen the rise of Ugg boots—and was running for mayor of Santa Barbara—should step down because his political ambitions were a distraction.
A week ago, Martinez did step down. It was a little too late. Three days later, McGuire sent a letter to the Deckers Outdoor board, as well as a press release announcing that he would mount a proxy fight to replace not just a handful of directors, but the entire board. In the letter, he complained that the Deckers board had ignored his suggestions and that a 44 percent drop in the stock since 2011 was attributable to "years of strategic, operational and capital allocation missteps." Et cetera. Et cetera.
The Deckers board responded with a press release saying that it would "carefully review" McGuire's candidates, but felt it was on the right track with its "$100 million operating profit improvement plan." Et cetera. Et cetera.
The showdown between McGuire and Deckers Outdoor is set to take place on Dec. 14, when the company holds its annual meeting. That's when we'll find out whether McGuire has landed another notch on his belt, or whether the Deckers board has somehow found a way to repel him.
Tune in then for another exciting edition of "Mick McGuire: Activist Investor."
(
Corrects description of time period covered in first chart.
)
To contact the editor responsible for this story:
Jonathan Landman at jlandman4@bloomberg.net
Before it's here, it's on the Bloomberg Terminal.
LEARN MORE